Happy Friday to all! It's that time of the week again! Do you have an interesting post you want to share with everyone? The official Surrender Monkey of the Democratic Party says to do what the Lefties don't, since they all have the same talking points: link it!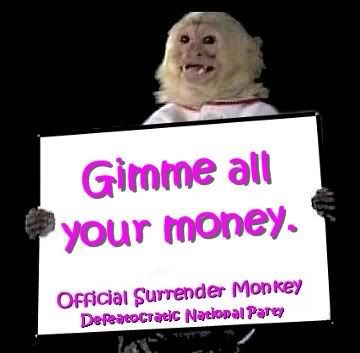 The Surrender Monkey is in an unusual position today. He is not representing the Democrats, Republicans, or any individual politicians. He is representing the American People. Why? Just consider this local story (local for me)
RALEIGH – With a new convention center on the way, the recent opening of Fayetteville Street and other changes downtown, the city is concerned about a vexing issue for visitors and residents alike: roadside and pedestrian signs that are inconsistent, confusing or nonexistent.

The city paid a consulting firm $200,000 to come up with recommendations and design signs for its "way-finding" capital improvement project. The firm, Corbin Design of Traverse City, Mich., proposed navy blue and white signs with an oak leaf motif to guide people — in cars and on foot — to downtown attractions and parking.
That's right. $200,000. For prettier street signs. Now, I am no bleeding heart liberal, just a good Christian, so, my first thought (after a WTF?) was "how many poor people could that money have fed? How many homeless could have been helped? How many parks in poor areas could have been fixed?" Using the money for something decent.
And the consulting firm wasn't even from North Carolina, or the Raleigh area! Taking the peoples money and just pissing it away outside of Raleigh. For shame. And what they get back is yack yack about changing street signs, re-designating the I-440 Beltway, and giving parking decks names, followed by
Altogether, the city has budgeted $1 million for the way-finding project, spread over three years. The biggest chunk, $500,000, is included in the 2007-08 budget.
Buffalo Brown, over at The Gun Toting Liberal, is discussing apathy in the American voter, and writes
This country is in desperate need of a viable third party. A party made up of people who want to serve others rather than themselves. A party with ideas and ideals that fall into the center of the political spectrum which is where most of us live – that is what we need. We've had about all the self-serving politbots the Democrats and Republicans have been cranking out year after year that we can stomach.
He has a hell of a good point. The American People are not apathetic, we are just sick and tired of electing people who are irresponsible, do not listen to the electorate, and do whatever the hell they want. They treat the money that is taken from citizens at gun point as monopoly money, to spend on whatever the hell they want. $600 hammers. Jeez, I have had the same Stanley graphite for 20 years, and, if it breaks, Sears or Stanley will replace it for free. We need government that is responsible with our money. Conservatives want lower taxes, and less spending. Liberals say they want higher taxes (yet they never check that "I'll pay more" box in Massachusetts. Go figure) and more social spending. What we need is government that will spend the money wisely, which would allow for lower taxes but proper spending on helping Americans. There is a middle ground.
Heck, Gov. Martin O'Malley of Maryland is saying "higher taxes or there will be deep cuts to local governments." Not one word about spending the People's money responsibly, rather then telling the People that taxes must be raised. That is typical of government. And this post could go on and on regarding this subject, but it has to end somewhere. But, until We The People stop surrendering to these politicians, the irresponsible spending won't.

Send a trackback to this post, but don't forget to link it.

If you liked my post, feel free to subscribe to my rss feeds.