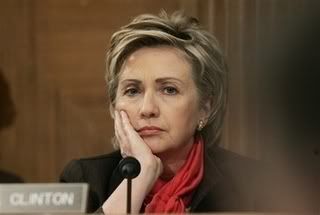 An AP photo, with the caption: "Sen. Hillary Rodham Clinton, D-N.Y., listens to witness testimony at the Senate Democratic Policy Committee Hearing regarding Iraq Monday, Sept. 25, 2006 on Capitol Hill in Washington."
She looks like she really gives a shat, eh?
Every photo about these sham hearings, based more on partisan politics and demeaning America, along with their "let's win by painting America black" rhetoric, is accompanied by "Retired military officers bluntly accused Defense Secretary Donald H. Rumsfeld of bungling the war in Iraq, saying U.S. troops were sent to fight without the best equipment and that critical facts were hidden from the public." Yawn. Same ol' same ol'.
Kinda reminds me of John Conyers (D-Outer Space) basement hearings on the Downing Street Memo. What ever happened to that, anyhow?
I'm reading the book Politics Lost: How American Democracy Was Trivialized by People Who Think You're Stupid, by Joe Klein (which I HIGHLY recommend), at the moment, and he has a great line about the Democrats
Shrum clones didn't have all that much to say about national security, except they were for "strength" in the world (though very often not for the use of strength).
'Nuff said.
Well, more said, from Ogre.

If you liked my post, feel free to subscribe to my rss feeds.