Well, maybe not all day. I will not be responsible for anyone's optometric bills
Nance was a busy beaver Thursday. She had her "support of terrorist rights" press release, and several others, starting with supporting the release of super secret information to Boris and Natasha
House Democratic Leader Nancy Pelosi spoke this evening on the House floor in opposition to a Republican resolution condemning the disclosure of classified information relating to the Bush Administration's program to track terrorist finances. Below are Pelosi's remarks:
Stop. She spoke in opposition, right?
"At the outset, let me reiterate that we all, Democrats and Republicans alike, support two principles: First, we support effective tools to fight terrorism, including the tracking of terrorist financing here and abroad under all applicable laws. Second, no one here condones disclosure of information that harms our vital national security interests, and that makes locating terrorists and terrorist networks and disrupting their plans more difficult.
"No one condones", yet she spoke out in opposition of the resolution.
She follows on with deflections about the Bush administration, the supposed Right of the People to know classified information (I missed that part in the Constitution), Plame, who everyone knew worked for the CIA (do two wrongs make a right?), and claiming it is a political stunt. Well, Nance, nothing could be farther from the truth. Republicans believe that the Times should not not only be slapped down, but investigated and charged with treason. But, in Liberal World, everything is a political stunt.
She also spoke out againts drilling in "protected area," despite wanting American energy independence. I failed to see her plan. Nance?
She also whines about Congress recessing for the 4th of July holiday, and lays out the Democratic agenda, which includes – prepared to be shocked – nothing on the War on Terror and Amercan security and defense. I also failed to see how she and the Democrats would implement ideas like lowering gas prices, especially since she just spoke out against drilling in American waters.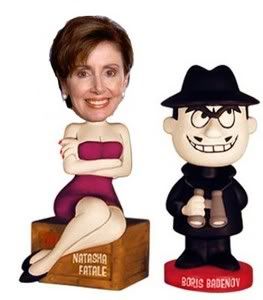 If you want some more, go here and here. Watch your cookies.

If you liked my post, feel free to subscribe to my rss feeds.