Well, that was fun today. Not much wind, but plenty of water. But, it wasn't fun for everyone:
Nearly eight inches of rain fell in the Raleigh area and other parts of central North Carolina, flooding roads and low spots Wednesday as the remnants of the season's first named tropical storm slowly churned through the state.

Alberto's remnants were also blamed in the death of Motton Watson, who drowned while playing basketball with some friends. Authorities said the 13-year-old fell into a Franklin County creek and that the water sent Watson downstream, where his head got stuck in the storm drain. He was pronounced dead at Franklin Regional Hospital.
Perhaps this is not the time, but who the hell was watching Motton?
In some areas, creeks were up 4-6 feet. I live close to the Neuse River, and there is a pond/wetlands area down the hill between the river and my townhome. Usually, that area is just water plants (which makes watching ducks and geese land rather funny). Now, it has to be up about 3-4 feet
Normal (at least in the winter, when you can see the water), followed by now. Had to take it from upstairs through the window, hence the weird reflections. They aren't ghosts 🙂 But that tree in the lower left gets in the way from the deck, and it is a pain to take the screen out.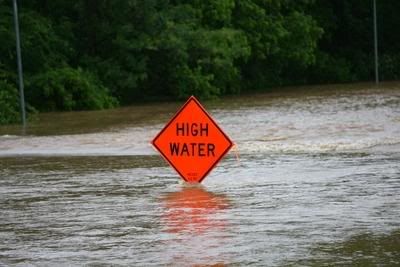 Ironic, eh?

If you liked my post, feel free to subscribe to my rss feeds.