From Merriam-Webster
Surrender (verb): to yield to the power, control, or possession of another upon compulsion or demand. Something liberals do or want to do constantly. Especially USA enemies.
Monkey (noun): a nonhuman primate mammal with the exception usually of the lemurs and tarsiers, related to Hominids deep in the evolutionary tree. Know for their ability to be trained to perform repetitive and mundane tasks and actions. Can often be raucous, unruly, rebellious. Have a fondness for poking things with sticks and flinging feces.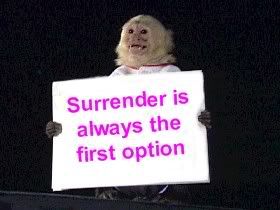 Linked over at Basil's Sunday Brunch. Go visit.

If you liked my post, feel free to subscribe to my rss feeds.