Let me say, I've almost always attacked the solutions. It's one of the main reasons I turned from mild believer in anthropogenic climate change, meaning I thought that mankind was responsible for at least 51% of the Modern Warm Period warming: I saw all the hard left, Modern Socialist, authoritarian, Big Government solutions being pushed. All of which dovetailed nicely into all the other Modern Socialist, Big Government, central government, authoritarian solutions for everything else. Global warming/climate change just seemed to be a platform with Ultimate Moral Authority to push this stuff. Many Skeptics do the same: they may show that the science is shoddy, but, focus on what the Cult of Climastrology's solutions would do
Climate change deniers are over attacking the science. Now they attack the solutions.

Believe it or not, it's nearly 2022 and some people still think we shouldn't do anything about the climate crisis. Even though most Americans understand that carbon emissions are overheating the planet and want to take action to stop it, attacks on clean energy and policies to limit carbon emissions are on the rise.
Most of these same Warmists are 100% against nuclear power. There could be agreement on that, but, no, not for them. They love them some solar, wind, and hydro, and then the extreme elements will block the construction of those, including transmission lines. And many want existing hydro-electric dams torn down. Further, how many of them actually practice what they preach in their own lives?
In a study out this week in the journal Nature Scientific Reports, researchers found that outright denying the science is going out of fashion. Today, only about 10 percent of arguments from conservative think tanks in North America challenge the scientific consensus around global warming or question models and data. (For the record, 99.9 percent of scientists agree that human activity is heating up the planet.) Instead, the most common arguments are that scientists and climate advocates simply can't be trusted, and that proposed solutions won't work.
If you're saying 99.9% of scientists agree on this, it's a political cult, not science. Here's their new chart which "charts the evolution of right-wing arguments"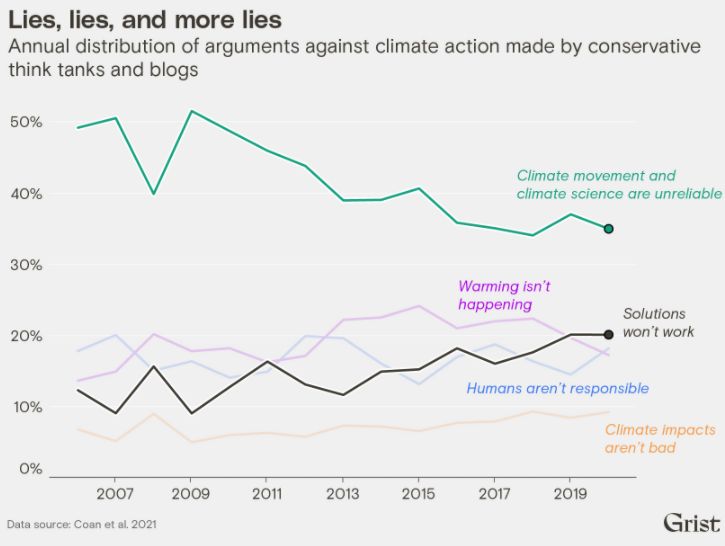 A lot no longer spend a lot of time on climate science being unreliable, because it isn't. We aren't currently in a Pause, and, I've never said that we haven't seen warming, because we have. It's just mostly caused by nature. Most others take the same position. Solutions won't work is the focus, because more and more are coming to the same position I have, namely, that this is all a reason to implement the Fascist government solutions. You can see a nice breakdown of this at the study under results.
Interestingly, 2 of the 4 authors are political scientists. One of the others is the disgraced doom-monger John Cooke, who was part of the utterly debunked study that said that 97% of scientists agree. Now we're at 99.9? Please.
That came as a surprise to the researchers. Scientists get called "alarmists," despite a history of underestimating the effects of an overheating planet. Politicians and the media are portrayed as biased, while environmentalists are painted as part of a "hysterical" climate "cult."
Well, now, I'm upset that my little blog didn't make the cut of those surveyed (page 23 of the supplemental), since I was probably one of the first, along with Tom Nelson, to start referring to them as a cult.
Researchers found that attacks on "climate solutions" are also on the rise. People who want to delay action often argue that renewable energy can't replace fossil fuels. They also say that climate policies will hurt working families, ruin the economy, and raise prices. Typically such arguments overlook how pollution from burning fossil fuels shortens lifespans and how climate-charged disasters like wildfires, flooding, and heat waves are already ruining people's lives and costing billions. They tend to ignore estimates that the changing climate could cost the U.S. 10.5 percent of GDP by the end of the century.
It will hurt families, and we aren't overlooking the scaremongering on fossil fuels (sure didn't seem to bother the 25K who showed up at Glasgow, eh?) nor climate disasters, since those disasters are things that have always happened, and are not caused by anthropogenic global warming. And, look, let's say they are caused by Mankind: why are all the solutions about government authority, about controlling people's lives, limiting their freedom and choice of everything, and taking more of their hard earned money?
Cook believes Cranky Uncle-style games could also help counter arguments against climate solutions or attacks on the movement, too. "Pre-bunking is kind of a universal template," he said.
Good luck. I'll ask a simple question to anyone who tries this (I do this already): what are you doing in your own life? If you haven't given up your fossil fueled travel, moved into a tiny home, limited your use of the Internet, wear 2nd hand clothes, and given up meat, among others, you're just a poser.

If you liked my post, feel free to subscribe to my rss feeds.