And Warmist Conal Hanna has ideas
I'm a climate change hypocrite — but I'm making a New Year's resolution to do things differently

….. (snip through a bunch of paragraphs)

If we are to neutralise the threat of climate change, we must first neutralise the power of self-interest. But doing so requires a hard look at ourselves.

Earlier last year I found myself becoming riled up by the same circular discussion we've been having for decades now: that Australia alone can't make a difference to global emissions, and we need to await some magical consensus that includes big emitters like China and the US.

"But we should be setting an example!" I cried.

Then I applied the same logic to my own life. And my hypocrisy was laid bare.
Shocking, eh? Imagine a Warmist being a hypocrite. But, hey, what's Conal going to do?
That's why our family — who have done a bit, but are by no means model citizens — is planning to make one new life-long, carbon-reducing resolution every month in 2020.

We're going to re-examine all aspects of our lives: from diet and purchasing habits, to leisure activities and super investments. There will be no gimmicky "my year without …" abstinence. Each commitment will be something we're willing to do forever from that point on.
So, obviously, giving up fossil fuels, downsize to a tiny home, live only on wind and solar, grow own food, etc?
First up is a war on ignorance: I'm going to commit at least one hour a week to reading about the impact I'm having on the planet. It's not the most dramatic first step, but it will ensure each subsequent resolution is well informed.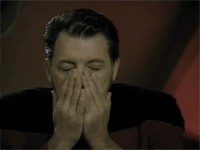 We're also aiming to eliminate (as much as possible) our standby power use. Simple things: switching the TV off at the wall, turning the wi-fi off overnight, etc. Using electricity more mindfully.

We are not seeking immediate perfection, simply to each month become better than we were before. Not only does this stepped approach make it more likely our new habits will stick but, if more people were to follow suit, it would give the economy time to adjust to the effects of large-scale change.
So, pretty much nothing of consequence. Surprise?

If you liked my post, feel free to subscribe to my rss feeds.