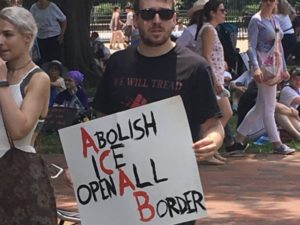 Remember, though, that Democrats are not Open Borders, and they totally do not want to keep the "bad ones"
Bernie Sanders: 'We Are Going to Impose a Moratorium on Deportations'

Sen. Bernie Sanders (I-VT) told a group that he backs a moratorium on all deportations from the U.S., a video surfaced on Saturday revealed.
The socialist senator told a group that, under a Sanders administration, the U.S. would cease ICE raids and deportations.

"We're gonna end the ICE raids which are terrorizing communities all across this country," Sanders said.

"We are gonna impose a moratorium on deportations," he continued. "There are some things that a president can do with executive orders."
Watch it
Bernie Sanders backs a moratorium on all deportations of illegal immigrants in the U.S. pic.twitter.com/Xqsr80yB6W

— Arthur Schwartz (@ArthurSchwartz) September 15, 2019
So, would he allow these illegals to stay?
Or would he be worried about "terrorizing their communities" and want to give them free healthcare?
Sanders also told the group that Medicare for All and free college would extend to individuals residing in the U.S. illegally.

"Let me also say something of which I have gotten into trouble and people will criticize me for," Sanders said.

"I am, as some of you know, supportive of a Medicare for All single-payer system and that means that everybody in the country has health care including the undocumented," he continued.

"And mark my words. You'll see 30-second attacking me for that," Sanders warned before adding that he also supports providing illegal aliens with free college.
And he wants all the "undocumented" to be documented and turned into citizens. Like the people above and the MS-13 gang members who hacked and stabbed a man to death in Maryland, who he doesn't want to deport.

If you liked my post, feel free to subscribe to my rss feeds.