Let's first note that the difference between $15 an hour in North Carolina, even a city like Raleigh, is vastly different between $15 an hour in northern and other Liberal states. It goes a lot further. Consider that I purchased my 1,200 square foot townhome for $95k about 10 years ago or so, and, while the floor plan is not my favorite, I have this view out the back door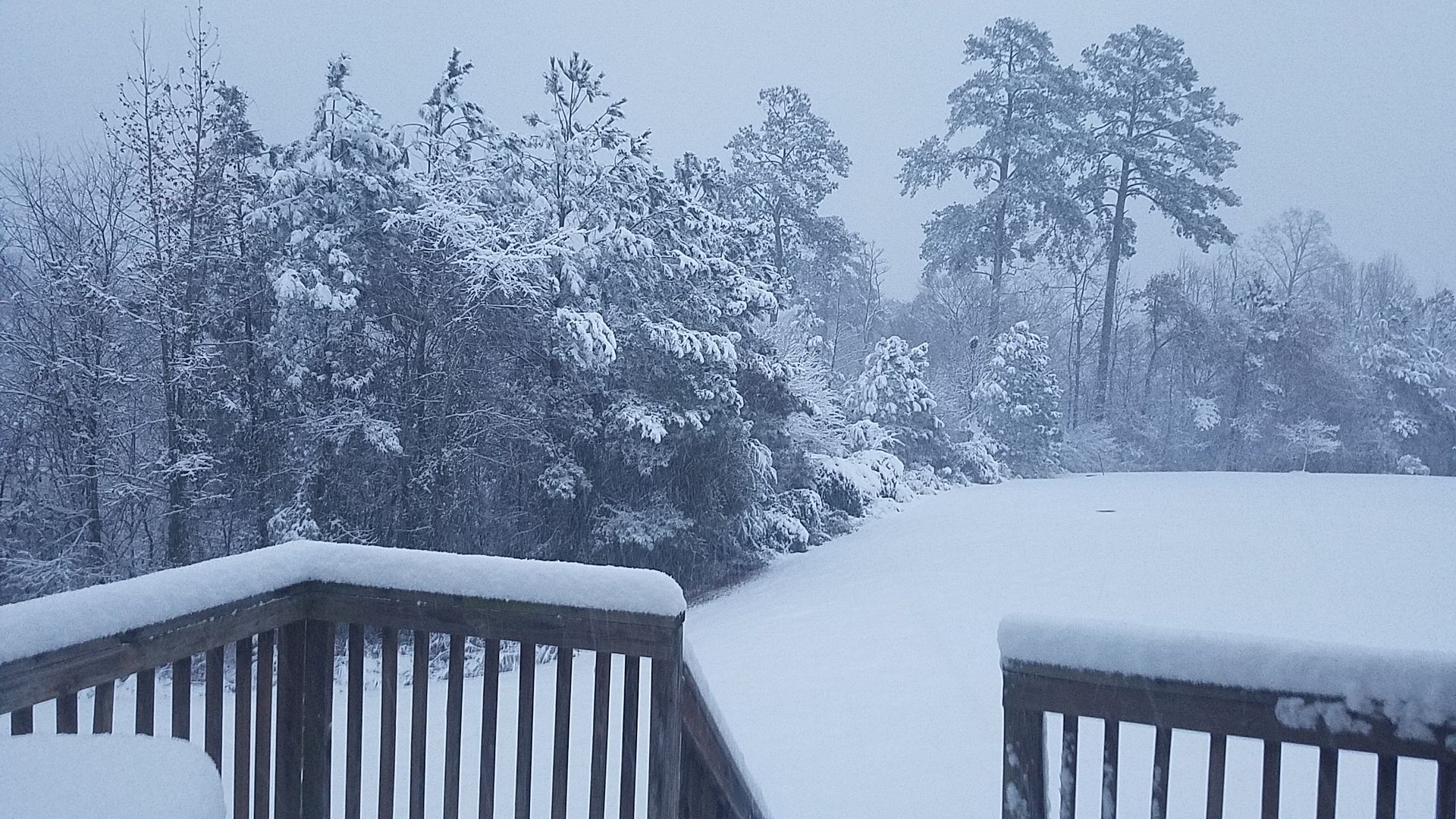 Obviously, not all the time with the snow. But, it is an elevated deck, and no townhomes (they are all duplexes) behind me. There is a row of them running along the right side of that pic. And the greenway runs on the other side of the trees, and there is a wetland from the Neuse River beyond that. And then the river. Try and get that in NJ, NY, California for less than $200k or more. Regardless
UNC Health Care boosts the pay of 9,000 employees as it raises minimum wage

UNC Health Care is promising a $15 million thank-you to thousands of employees.

The Chapel Hill health care organization said Tuesday it will increase its minimum wage to $15 an hour in the Triangle, a move that will ultimately boost the pay of some 9,000 employees, nearly a third of its total workforce. The organization owns or operates 13 hospitals and employs about 30,000 people.

But UNC Health Care's beneficence is limited to the Triangle, where it employs 21,500 people.

The health care system's statement said the Triangle's "higher cost of living, strong job market and competition for talented co-workers are key factors in the decision to make a living wage adjustment now."

UNC Health Care plans to raise its minimum wage to $14 an hour on Jan. 13, and to $15 an hour in July. The employees who will get the raise include housekeepers, cashiers, stock clerks and nursing assistants. No one employed at UNC Health Care in the Triangle currently makes less than $12 an hour, said spokesman Alan Wolf. The state and federal minimum is $7.25 an hour.

"We are committed to providing a competitive living wage to support our workforce," said Dr. Bill Roper, CEO of UNC Health Care, in a statement. "We are proud to employ the best people to fulfill our mission of caring for patients and their families, and offering a higher living wage is an important step we are able to take."
So, what about those skilled workers who are making $15, 16, 17 an hour now? Will they be getting a raise, or will they be paid the same as the unskilled workers? There's not doubt that the unskilled are necessary to run the business, but, should they make as much as the people who went to school, got a degree, perhaps a masters, and spent time learning to do their craft? Well, yes, those skilled workers will be making more
The pay raise will boost 3,750 employees to $15 an hour. As they move up the pay scale, their raises will push up the wages of employees higher up the ladder so that the organizational pay scale remains relationally intact
UNC Health Care is a not-for-profit integrated health care system owned by the state of North Carolina and based in Chapel Hill. Originally established Nov. 1, 1998, by N.C.G.S. 116-37, UNC Health Care currently comprises UNC Hospitals and its provider network, the clinical programs of the UNC School of Medicine, and eleven affiliate hospitals and hospital systems across the state.
So, guess who is paying for this? That's right, the taxpayers of the state. They'll pay more through their taxes, as well as higher healthcare costs. Hooray!

If you liked my post, feel free to subscribe to my rss feeds.