Not really. Imagine the headline if it was Republican Brian Kemp who had a hissy fit in conceding. It wouldn't go like this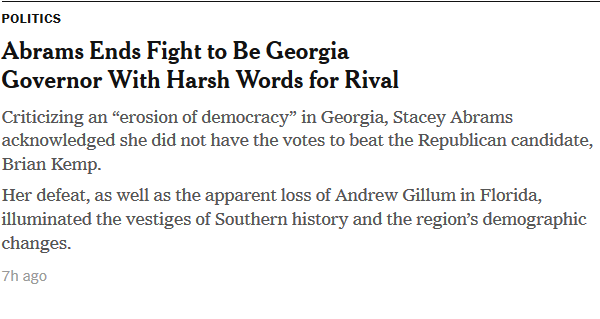 The article itself is all about Blaming others, raaaaacism, and being a sore loser. Were it Kemp, the headline would surely be something like Kemp Ends Fight To Be Georgia Governor On Sore Loser Note.
Stacey Abrams ended her Democratic bid to become governor of Georgia on Friday, acknowledging that she did not have the votes to beat her Republican rival, Brian Kemp, but sounding a defiant note by declaring that an "erosion of our democracy" had kept many of her backers from the polls.

The narrow defeat of Ms. Abrams, who would have become the first black woman to be elected governor anywhere in the United States, as well as the apparent loss of Andrew Gillum, who sought to become Florida's first black governor, at once illuminated the vestiges of Southern history and demonstrated how demographic changes have taken hold across the region and begun to reshape its politics.
See? They only lost because of shenanigans and raaaaacism.
Ms. Abrams, while acknowledging Friday that she could not win, did not concede either.

"More than 200 years into Georgia's democratic experiment, the state failed its voters," Ms. Abrams said, her voice alternating among anguish, contempt, frustration and outrage as she argued that "eight years of systemic disenfranchisement, disinvestment and incompetence had its desired effect on the electoral process in Georgia."

"Let's be clear: This is not a speech of concession because concession means to acknowledge an action is right, true or proper," Ms. Abrams said amid a blistering attack on Mr. Kemp's record as the state's chief elections regulator and on the balloting process in Georgia. "As a woman of conscience and faith, I cannot concede that."

As Ms. Abrams ended her campaign, she returned to a theme that had surfaced throughout: that Mr. Kemp, who was the Georgia secretary of state until the Thursday after the election, had used his position to suppress voting and ease his path into the governor's mansion.
Democrats really are sore losers. Heck, even Trump offered up kind words for Ms. Abrams
Look forward to working with you and VP @mike_pence to keep Georgia strong and Make America Great Again! #gapol https://t.co/QKp0OohBGw

— Brian Kemp (@BrianKempGA) November 17, 2018
But what the NY Times forgot is she's even more of a sore loser
Today, I announce the launch of Fair Fight Georgia, an operation that will pursue accountability in Georgia's elections and integrity in the process of maintaining our voting rolls. #gapol

— Stacey Abrams (@staceyabrams) November 17, 2018
That's right, she's launched a big slush fund, er, PAC, to Do Something.

If you liked my post, feel free to subscribe to my rss feeds.