Democrats keep coming up with great ideas to push during campaigns. Grabbing guns from law abiding citizens, doing away with tax cuts for the vast majority of middle class voters, the gender confused in bathrooms and locker rooms with young girls, and so much more idiocy. Like this
A Climate Change Litmus Test For Democrats

In April 2016, at a campaign stop on the campus of SUNY Purchase, just north of New York City, I filmed a short video of Hillary Clinton. I captured the former secretary of state berating my friend for asking if she would commit to refusing money from the fossil fuel lobby. "I'm so sick," Clinton answered, "I'm so sick of the Sanders campaign lying about this."

The video quickly went viral, partly because of the outsized response from a famously tight-lipped politician, partly because it played so well into the Democratic primary narrative that pitted Clinton, buddy-buddy with Wall Street, against the people-powered challenge of Sen. Bernie Sanders. (snip)

These factions will battle each other again in primaries this year. To mount the strongest challenge to the party of Trump in November, the Democrats will need to energize their young activist base. They must commit to what Clinton would not ― refusing fossil fuel money. The wellbeing of our climate and our communities is at stake. (snip)

Common sense dictates that the economy undergo a massive restructuring away from fossil fuels to save lives. And a growing body of research shows that the only way to avoid catastrophic levels of climate change is to cease production of vast amounts of "unburnable" carbon. Accomplishing this requires bold government action ― not faith in the current system that subsidizes both the production of fossil fuels and the salaries of oil and gas executives. (snip)

Democrats need to earn the millennial vote. The party can do this and thus minimize its perennial off-year disadvantage ― the turnout gap ― with a simple promise: to refuse fossil fuel money. This commitment would signal to young voters that a candidate understood climate change as a threat worthy of action.
OK, so, they aren't really proposing to actually Do Something of significance, just refuse to take money from fossil fuels companies. Not give up their own use of fossil fuels, not pledge to initiate all sorts of taxes and fees, just virtue signal that they won't take money from fossil fuels companies. As Instapundit is fond of writing "I'll believe that it's a crisis when the people who tell me it's a crisis act like it's a crisis (in their own lives)".
Hilariously, this is yet another attempt to whip up the young vote, which so often is all sorts of enthused, but fails to show up at the ballot box. But, here's a question: do Democrats really care about Hotcoldwetdry?
Poll: voters want Democrats to focus on health care if they win in 2020

Significant pluralities of American voters, and Democrats specifically, want the Democratic Party to prioritize health care if they retake the White House and Congress in 2021:
So, Warmists are saying "ZOMG, that includes evil denier opinion!!!!!" OK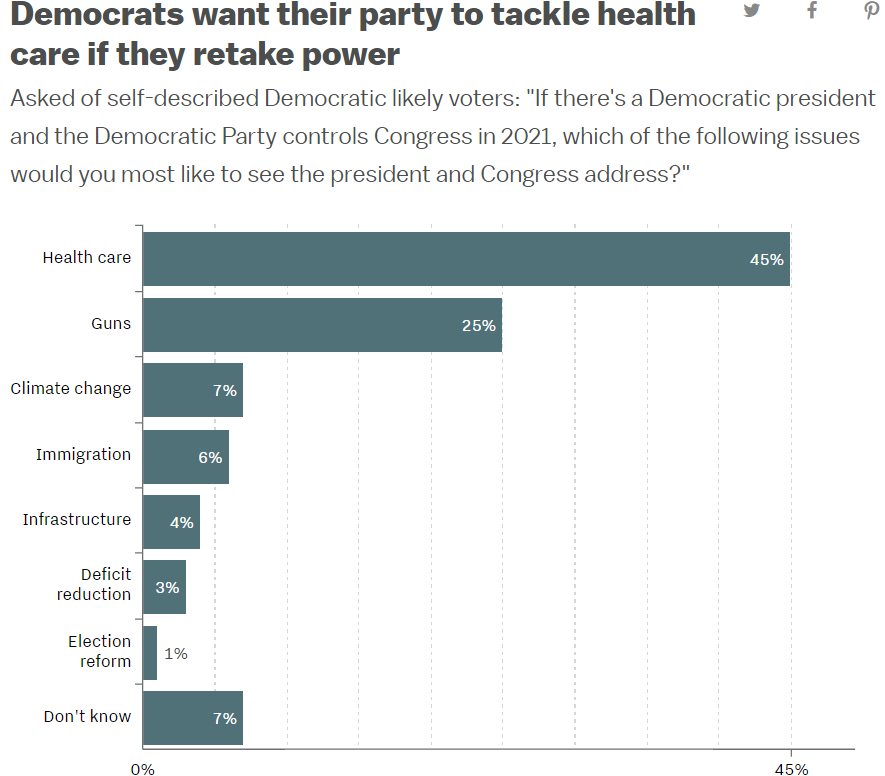 After years of spreading awareness, scare mongering, putting it on TV, and so forth, 7%. Just one percent more than with all likely voters.

If you liked my post, feel free to subscribe to my rss feeds.