These are the same people who refuse to give up their own fossil fueled lifestyles and go carbon neutral, but, the UK Guardian is Totally Concerned
Southern Californians know: climate change is real, it is deadly and it is here
An earthly paradise is ravaged by inferno and flood, the earth itself rising to proclaim a horrifying and deadly new normal
I love that subhead. Very apocalyptic.
People who visit from colder climates have been complaining lately. Last year, when it finally rained after six years of drought, and we were practically on our knees with gratitude, a woman from New England remarked, "I didn't come here for the rain." I almost said, "Well, then, why don't you go back home?" Another pestered a friend: when was her club in Montecito going to open? My friend replied, "I think it's under eight feet of mud." She wanted to add, "And they're still looking for the bodies."

It's always been a struggle here to have a normal life, to hold on to reality.

In December, we got a mega-dose of reality when the biggest fire in California's history burned more than 270,000 acres. Seven cities were evacuated.

When the air was labeled "hazardous" for three days running, we made plans to leave. On Sunday morning, my phone pinged a mandatory evacuation for Montecito. I called a friend who lives there. "Packing," she said. The fire was less than a mile away. I drove through the brown air and falling ash to a gas station and when I got there, my credit card wouldn't work; the power was out. I stood in the zombie snow as others lined up behind me. Finally, we drove north to a hotel on the coast, where, with evacuated friends, we hiked and walked together along the shore.
See? Wildfires, which have always happened (and are also made worse by the draconian enviroweenie demands to stop all clearing of brush till the area is a tinderbox) are hell on earth, you guys.
After we'd been there a few days, I woke up at 3am and thought of a movie I'd watched years ago. Ava Gardener and Gregory Peck waiting for the fallout from a nuclear war in the northern hemisphere to float on the wind to them in Australia. They were going to die, and everyone and everything they cared about was already dead or was going to be. I remembered a lot of drinking and dancing, fruitless searching by submarine along the coasts of the United States for survivors and Fred Astaire fixing up his sports car so he could rev it up in his garage and commit suicide.

I thought, we are On the Beach.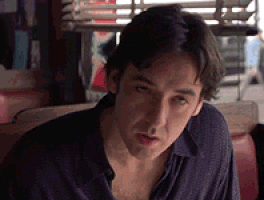 And we know now what the dread was we felt in December. Call it climate change or climate collapse, that was the Big Dread behind the smaller ones. Climate believers, climate deniers, deep in our hearts we think it will happen somewhere else. Or, in some other time, in 2025 or 2040 or next year. But we are here to tell you, in this postcard from the former paradise, that it won't happen next year, or somewhere else. It will happen right where you live and it could happen today. No one will be spared.
Oh, and hey, just to illustrate doom on earth, they provide this picture of doom
Refer back to facepalm GIF.

If you liked my post, feel free to subscribe to my rss feeds.