Remember back in the beginning of October when I mentioned that illegal alien "Dreamers" and their supporters were starting to make noise in favor of a "clean immigration bill", where the bill would only be about giving legalized status on the way to amnesty, and not include any sort of border security or anything else?
(Breitbart) Illegal aliens shielded from deportation under the President Obama-created Deferred Action for Childhood Arrivals (DACA) program are staging a hunger strike in the days leading up to Thanksgiving Day.

The group of illegal aliens from New Jersey have promised to not eat until Thanksgiving, according to WNYC, while they lobby Republican members of Congress to pass an amnesty for the nearly 800,000 DACA recipients in the U.S.

"I'm sitting here looking at my last meal and trying to imagine what my meals would be like if I was sent back to Mexico," DACA illegal alien Adriana Delgado told WNYC.

"People think that I'm crazy for doing this hunger strike but I'm willing to suffer for three days if it means not suffering for a lifetime," Delgado continued. "There will be thousands of families who will have broken dinner tables if nothing is done."
But not willing to suffer through Thanksgiving. According to most articles. Only one, down at the end of this post, says different
The group of illegal aliens is demanding an unconditional amnesty that permanently allows all DACA recipients to remain in the United States and puts them on a pathway to citizenship, when they can eventually bring their foreign relatives to the U.S. as well.

The DACA recipients say they are not satisfied with an amnesty that ties the legalization of potentially 3.3 million eligible illegal aliens to pro-American immigration reforms like an end to chain migration or the termination of the Diversity Visa Lottery.
Over to the WNYC article cited
According to Make The Road NJ, which is organizing the hunger strike, the dreamers will be staying at a church all week and visiting the offices of the five New Jersey Republicans in Congress. Advocates want a "clean" bill passed by Congress that is not tied to conservative immigration proposals, like funding for more deportations or construction of a larger wall on the Mexican border.
The Trentonian (Trenton, NJ) features this photo at the beginning of an opinion piece (which also makes the claim that they are staying on hunger strike through Thanksgiving, and is the only one to do so)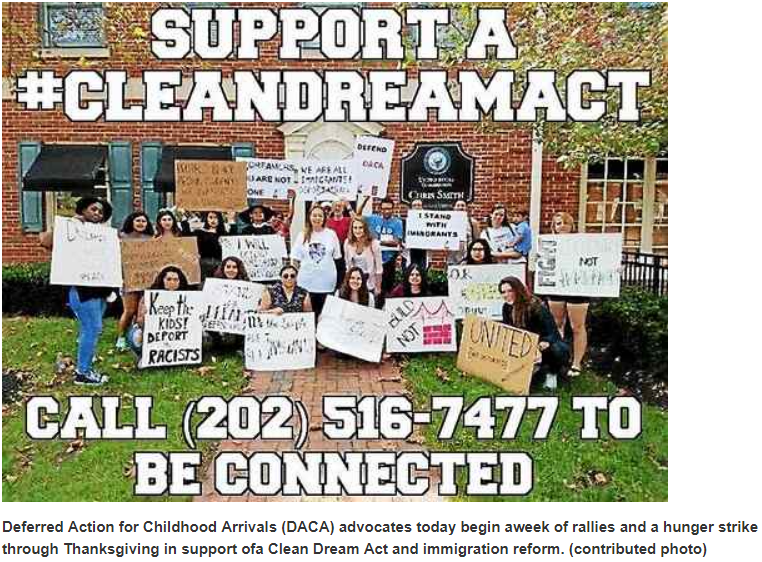 As I noted back in October
This is the exact kind of thing that will cause people who are willing to consider some sort of legal option (I would support Rand Paul's legislation, though there are still a few issues) to turn away. The illegals want to have their cake and eat it too. If there are no border protections, no measures to reduce illegal immigration, no penalties, all those who are open to a compromise will turn away, including more than enough elected Republicans who will vote any sort of "clean bill" down.

And then where will you be, illegals/Dreamers? Calling for legislation that gives you everything while enabling even more illegal immigration is not the answer. If legalization for Dreamers fails, this will be on you. You really shouldn't be given any sort of legalization pathway. Do you want to destroy the change to get one? Choose wisely.
We are not going to give up amnesty for nothing in return. And people here illegally do not get to dictate what should happen. They should be asking nicely, not demanding.

If you liked my post, feel free to subscribe to my rss feeds.