Remember a few weeks ago when Starbucks promised to hire 10,000 refugees over the next 5 years (I wonder how many they've hire at this point)? How's that working out? (Via Zerohedge)
(Yahoo Finance) The coffee giant's consumer perception levels have fallen by two-thirds since late January, according to YouGov BrandIndex.

The perception tracker measures if respondents have "heard anything about the brand in the last two weeks, through advertising, news or word of mouth, was it positive or negative." In Starbucks' case, perception is still overall positive, but significantly lower than it was prior to CEO Howard Schultz published a public letter outlining the company's plans to give refugees jobs.

YouGov says that there's reason to believe backlash will impact the chain's bottom line. Two days before Starbucks' announcement, 30% of consumers said they'd consider buying from Starbucks the next time they were craving coffee, the highest proportion in nearly a year. Now, the percentage is down to 24%, according to YouGov.
Here's what that looks like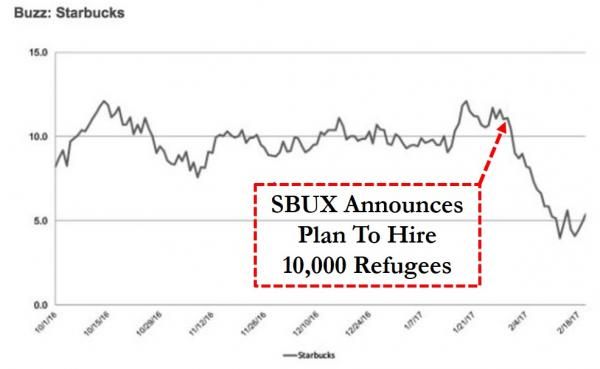 Play by the SJW, die by the SJW.
Gordon Ramsey always says that customers don't bother complaining that much, they just don't come back. And when Starbucks annoys people who might purchase their product, they just go elsewhere. Or make it at home.
And, just for an added stupid alert from the World Of Progressivism
1 in 2 Californian children depend on Medicaid. This plan's cuts to Medicaid attacks those who need heath care most. https://t.co/GBRQkFO0st

— Kamala Harris (@KamalaHarris) February 24, 2017
Folks, should we be concerned that 50% of California children are on medicaid? Its not just me, right? https://t.co/rzO4AP09f5

— VolForward (@VolForward) February 25, 2017

If you liked my post, feel free to subscribe to my rss feeds.