Why yes, yes President Donald Trump will easily be able to axe the Paris climate agreement. This follows up with the climate post this morning about commitments
(Jo Nova)  The UNFCCC were trying a weak bluff last week that Trump "would not derail Paris". Turnbull rushed to sell Australia out to the Paris deal on Nov 10th for no purpose at all even after the US election guarantees two of the largest economies in the world will not be committed to carbon reduction, all of which was obvious from November 9th, 2016. (China — the other "largest" economy has promised to do nothing.)

In a letter to John Kerry on November 3rd,  fourteen US senators explained that Obama's commitment to the Paris deal is the legal equivalent of him  giving a speech — the "lowest forms of commitment the United States can make…". It's worthless.  The Senators explained that everyone knows the Paris deal was done to avoid going through Congress (it's printed in The Guardian) because Congress would never approve it.
Here's part of the letter sent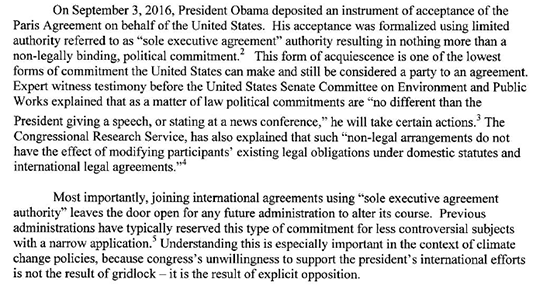 And there's this

When you read the whole thing in full, putting it all in context, you come away with the concrete idea that both the Paris climate agreement, along with Obama Clean Power Plan, which was mentioned, are both about to be burnt toast. Done. Gone. Outa here. Eliminated.

If you liked my post, feel free to subscribe to my rss feeds.