The United States hasn't been hit with a major hurricane (category 3+) in over 10 years, almost 11. We are fast approaching 4,000 days since that last strike, Wilma in October 2005. So, obviously, 'climate change'
(Think Progress) Hurricane Matthew, the most powerful cyclone to form over the Atlantic in nearly a decade, has forced the Navy to airlift non-essential personnel like spouses and children out of the controversial Guantanamo Bay U.S. Naval Base in Cuba Sunday. (snip)

Hurricane Matthew, the strongest storm since Hurricane Felix hit the region in 2007, is a Category 4 of the five-step Saffir-Simpson scale of hurricane intensity. On Saturday it was ranked Category 5. (snip)

As human-caused climate change exacerbates, the planet is experiencing more extreme weather events like hurricanes. A graph of natural catastrophes over the last century shows a clear rise in number of meteorological and hydrological events, including storms and floods.

Scientists have linked worsening Atlantic storms to global warming. "Rising sea levels exacerbated Sandy's storm surge, for example, a direct link between global warming and storm damage. And abnormally high sea surface temperatures in the Atlantic probably intensified the storm," writes NASA.
Pretty funny definition of "more" and "worsening." We're seeing very few, and even fewer strong hurricanes. But, they're more and worse. Sigh.
Then we have uber Warmist Eric Holthaus (who is actually a rather nice guy)
Katz says that, no matter Matthew's impact in Haiti, the storm serves as a wake-up call for vulnerable parts of the world in an era of climate change. Heavier rainfall, stronger hurricanes, worsening crop production, and rising sea levels are all particularly pronounced in Haiti, and are all expected to worsen in the coming decades. "People [in Haiti] are very self-sufficient," Katz says, "but a hurricane is just not the kind of situation where self-sufficiency does the trick."
A wake up call! And more government control. Surprise.
Of course, Twitter is replete with the Matthew-climate change silliness.
CLIMATE CRITICAL THREAD•••••#GlobalWarming is Revealing itself right now..#HurricaneMatthew is a SERIOUS SIGN of a #ClimateCrisis NOW.

— BAN01 (@Niebrugge2) October 2, 2016
#climate #climatechange = #hurricanematthew #matthew Increase number, intensity, and duration = vote 2 #ActOnClimate https://t.co/I4FooJcGUZ

— Rich (@richard35609781) October 2, 2016
Climate change to destroy livelihood of hundreds of millions. Terrorism and chaos may follow. #HurricaneMatthew https://t.co/2HfcNK5Y2Z

— ElijahHuAkbar (@elijahhuakbar) October 3, 2016
And we had a winner for being one of the first and wackiest, though, sadly, she's blocked me because I dared to call out her own BS (so, I have a mobile screenshot taken when not logged in to Twitter)
We have a winner in the Matthew climate change craziness pool https://t.co/zPsQvZgOoG

— Deplorable Teach (@WilliamTeach) October 1, 2016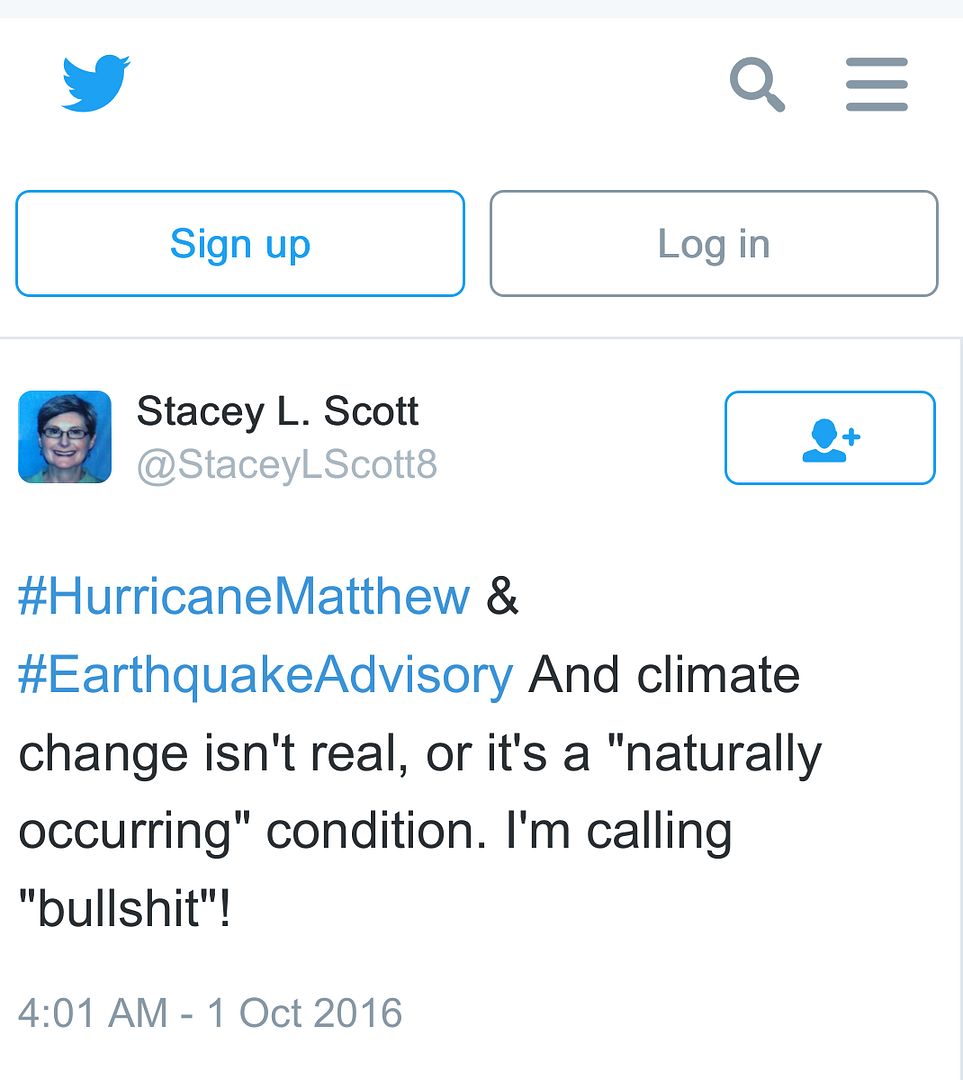 If you liked my post, feel free to subscribe to my rss feeds.