No, seriously. Sea rise totally proves that people using lots of energy to publish newspapers, along with all the fossil fuels to gather the news and distribute the dead tree editions, is obviously the only reason the seas are rising
Trump's climate science denial clashes with reality of rising seas in Florida

By Donald Trump's account, scientists have tricked Americans into accepting that global warming is caused by the burning of fossil fuels.

"I'm not a big believer in man-made climate change," he told the Miami Herald on one of the rare recent occasions when he has talked about it.

A few blocks from the Miami Beach hotel where Trump spoke, water flooded over a seawall last year during the highest autumn tides, blocking traffic on one of South Florida's main evacuation routes. The city is now elevating that street and many others as part of a $500-million program to protect itself from the rising ocean.
The rest of the article is exactly what you would expect, lots of whining about consensus, followed by the notion that the seas are rising in Florida and causing flooding, and due to Cult of Climastrology logic, it is all Mankind's fault. Because it never happened before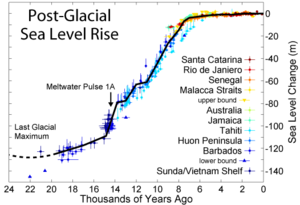 Damned early men and their carbon pollution 20,000 years ago. Look what they caused!
Anyway, NOAA hasn't had a working gauge in Miami Beach since 1981. According to a University of Miami study, sea rise has gone from 3mm to 9mm since 2006. What does this prove? Nothing. It is not proof of anthropogenic causation. And all the doomsaying sure doesn't seem to be causing developers, builders, and buyers from stopping developing, building, and buying homes right on the coast.
Oh, and you only get that 9mm mark, which would equate to 35 inches per century, you have to cherry pick.
Oh, and for all the whining by the LA Times, the gauge for L.A. shows a whopping .95mm per year, which equates to .31 feet per century.

If you liked my post, feel free to subscribe to my rss feeds.