Instead of living in Reality Land, Warmists love to live in this world where "carbon pollution" from Other People is going to cause massive doom. Now, hey, I love a good apocalyptic novel, especially zombie related, but I understand these are works of fiction, no matter how much they create a way to say "this could happen." Warmists truly believe in their Doomsaying
Does Washington, D.C., Need a Climate-Change Memorial?

One of the most iconic sights in Washington, D.C.—its Japanese cherry trees, exploding like frozen fireworks each spring—is also likely to be among its first casualties of climate change. As the seas rise, many of the waterfront trees will be subsumed by the muddy Potomac River, perhaps necessitating a laborious relocation to higher ground.

Or, we could just let them perish. That's the core idea of a new proposal for a global-warming memorial on Hains Point, a riverside park area that's already aregular victim of flooding. "Climate Chronograph," which has won theMemorials for the Future Competition put on by the National Park Service, National Capital Planning Commission, and the Van Alen Institute, would install a sloped grove of cherry trees along the Potomac. As the river gets higher, the trees would drown row by row, creating a tangible timeline of global warming from sublime blossoms and rotten, leafless boughs.
The "hauntingly beautiful" comes from at least one of the titles used for the article, which I can still see in my Pocket save, and you can see in the header bar of your browser at the link. Let's see what this looks like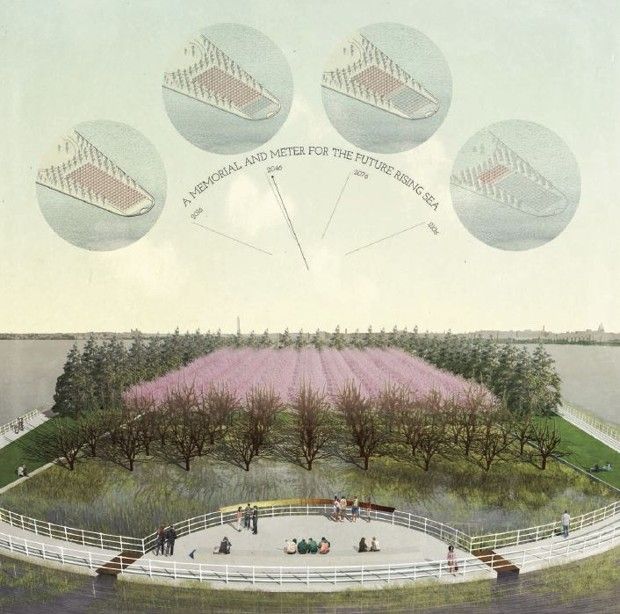 And let's see the sea level rise in D.C.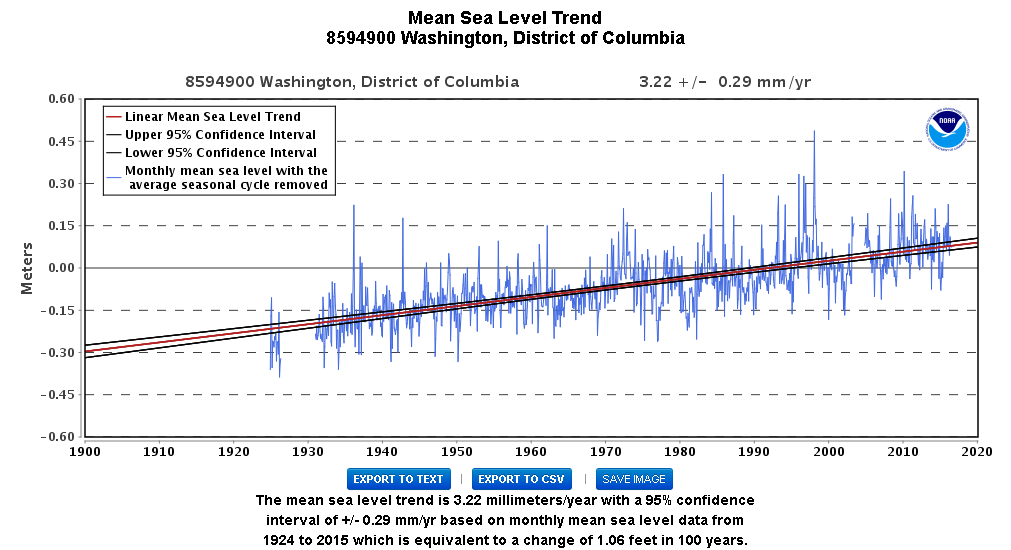 It's slightly above the 20th Century average of 7 inches, and below what one would expect of a Holocene warm period. There's no acceleration. Nothing unusual. It'll take a long time before. You will need at least 300 years before any sea rise will affect the trees, as long as the rise continues. Which would be unusual during the Holocene. But, the Cult of Climastrology never stops.

If you liked my post, feel free to subscribe to my rss feeds.