Quite frankly, it would be nice if Warmists would have no children, which would make it harder for them to pass on their insanity to youth, hopefully starting with Travis N. Reider
Bioethicist: The climate crisis calls for fewer children

Earlier this summer, I found myself in the middle of a lively debate because of my work on climate change and the ethics of having children.

NPR correspondent Jennifer Ludden profiled some of my work in procreative ethics with an article entitled, "Should we be having kids in the age of climate change?," which summarized my published views that we ought to consider adopting a "small family ethic" and even pursuing fertility reduction efforts in response to the threat from climate change. Although environmentalists for decades have worried about overpopulation for many good reasons, I suggest the fast-upcoming thresholds in climate change provide uniquely powerful reasons to consider taking real action to slow population growth.

Clearly, this idea struck a nerve: I was overwhelmed by the response in my personal email inbox as well as op-eds in other media outlets and over 70,000 shares on Facebook. I am gratified that so many people took the time to read and reflect on the piece.

Having read and digested that discussion, I want to continue it by responding to some of the most vocal criticisms of my own work, which includes research on "population engineering" – the intentional manipulation of human population size and structure – I've done with my colleagues, Jake Earl and Colin Hickey.
Of course, if we don't population engineer, we are totally doomed, as the rest of the article notes. And, since this is science, we're treated to
How bad will things get?

Some comments – those claiming climate change is a hoax, devised by those who wish to control the world's resources – are not worth responding to. Since 97 percent of all relevant experts cannot convince climate change skeptics of the basic scientific facts, then nothing I say will change their minds.
First, consensus is not science. Second, it's cute how he adds "relevant". You can figure out the meaning of that one.
Fortunately, we are shown what an unhappy family from carbon pollution looks like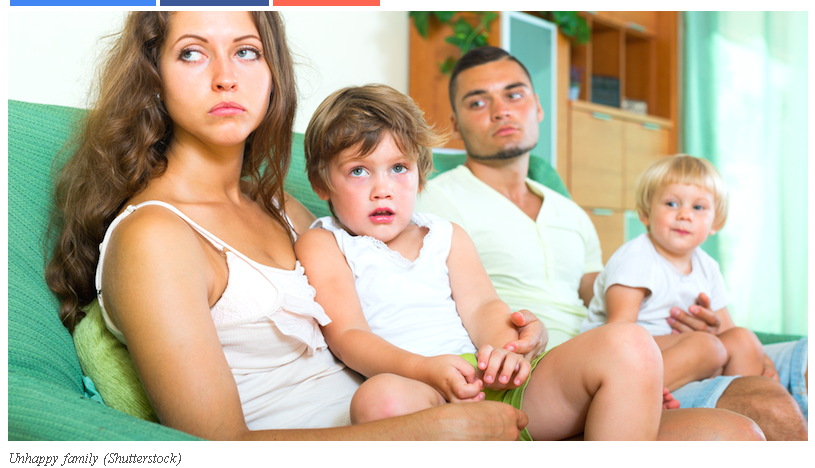 If I had Leftist Cult of Climastrology parents, I'd probably unhappy, as well.

If you liked my post, feel free to subscribe to my rss feeds.