This is just so utterly horrible for Skeptics!!!!!!
Survey: Fewer Americans doubt climate change is real

A new survey finds that fewer Americans doubt that climate change is happening, but it continues to be a highly polarizing issue.
Here's the associated graphic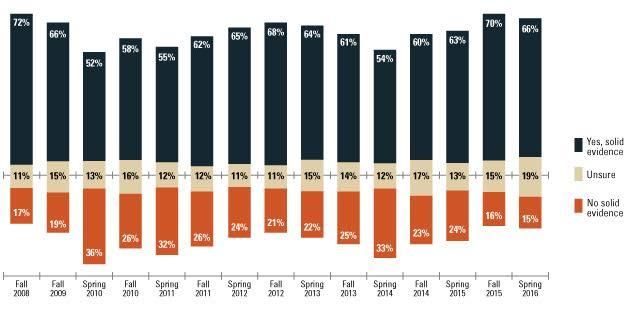 Interestingly, the number who are unsure is at a high. But, say, what about the question asked?
This is the latest survey in the series of National Surveys on Energy and Environment conducted by Muhlenberg College and the University of Michigan. Researchers asked a random sample of 768 people, "Is there solid evidence that the average temperature on Earth has been getting warmer over the past four decades?"
Now, if I am asked that question, I would answer "yes, there is solid evidence." Because there is. You had a big spike going from late 70's through about 1996, then a huge El Nino spike, then essentially statistically insignificant warming since. But, the temps have still gone up hundreds to tenths of a degree.
Yet, this does not cover causation in the least. And that is what the debate is about: What has caused the warming.

If you liked my post, feel free to subscribe to my rss feeds.