Another day, another scary photoshop of a city disappearing into the sea
Here's the 2030 Miami Skyline Photoshopped to Account for Dramatic Sea Level Rise and it's Horrifying

Yesterday we posted a Visualhouse rendering projecting the 2030 Miami skyline.

Curbed commenter Erik Botsford put his Photoshop skills to use and revealedwhat a 2030 Miami skyline would look like with a dramatic and depressing rise in sea level, with Biscayne Bay engulfing Downtown Miami and its surrounding buildings, like the American Airlines Arena. Here is an overlay of the two images.
To see the overlay, you'll have to hit the link, because of the type of graphic. Here's what it looks like in the after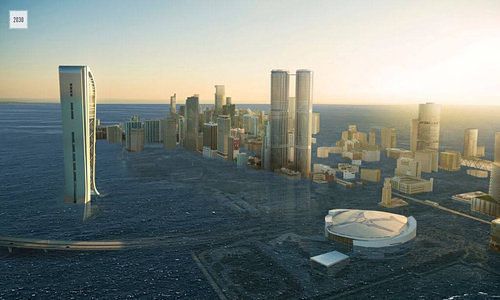 I'm figuring that we're talking about at least 25 feet of sea rise, possibly more, probably more, to bury everything as portrayed. And, certainly, they aren't the only ones who've done this, nor the only ones speaking out with apocalyptic prognostications.
What does the data say? Despite an overall projection by the NOAA, the very limited data from Miami Beach, which ran from 1931-1981, shows just 2.39mm of sea rise per year, meaning .78 feet per century. The nearest monitoring stations are Vaca Key, which shows 3.34mm year, so 1.10 feet over 100 years (well within the norms for a Holocene warm period), and Lake Worth Pier, which is so short on measurements as to be worthless. Mayport, north of Miami, is one of the best, since measurements started in 1928, and go through 2014. It shows 2.5mm  year.
Interestingly, for all the hysteria, no one really seems to have any hard data on sea rise in the Miami area since 1981. If you can find it, let me know. Everything seems to be projections, where the curve is added to create a projection of 6 feet of sea rise, adding to the ending point of 1981 of the NOAA data. Where are the satellite data sets? Where are the hard direct measurements?
Oh, then we get this
Projections for sea-level rise are all over the place but barring some unforeseen variable or climatic disaster, our seas obviously won't be rising thisquickly. Nonetheless it's a scary sight. If this website does not exist tomorrow, assume Rick Scott had it terminated.
Oh. So, they throw out scary prognostications, then walk them back. Really, it will take at least 700 years to achieve 6 feet of sea rise. This isn't a science, it is a political cult.

If you liked my post, feel free to subscribe to my rss feeds.