Doom? Here's Duncan Clark at the UK Guardian, a paper never known for reasonable discourse when it comes to "climate change"
World will warm faster than predicted in next five years, study warns
New estimate based on the forthcoming upturn in solar activity and El Niño southern oscillation cycles is expected to silence global warming sceptics

The world faces record-breaking temperatures as the sun's activity increases, leading the planet to heat up significantly faster than scientists had predicted for the next five years, according to a study.

The hottest year on record was 1998, and the relatively cool years since have led to some global warming sceptics claiming that temperatures have levelled off or started to decline. But new research firmly rejects that argument.

The research, to be published in Geophysical Research Letters, was carried out by Judith Lean, of the US Naval Research Laboratory, and David Rind, of Nasa's Goddard Institute for Space Studies.

The work is the first to assess the combined impact on global temperature of four factors: human influences such as CO2 and aerosol emissions; heating from the sun; volcanic activity and the El Niño southern oscillation, the phenomenon by which the Pacific Ocean flips between warmer and cooler states every few years.
Interesting. They blame quite a bit on natural processes, and even claim that the world will quickly warm thanks mostly to natural factors. They claim that "temperatures will shoot up at 150% of the rate predicted by the IPCC".
There's a little problem with all this: the article itself is from July 27, 2009. And since that time, the global temperatures have essentially flatlined, if not reduced. By all measures, land, sea surface, overall, upper atmosphere, tropics, etc, we did not see any massive skyrocketing of temperatures. After a brief uptick in 2010 of .3C, temps dropped per HADCRUT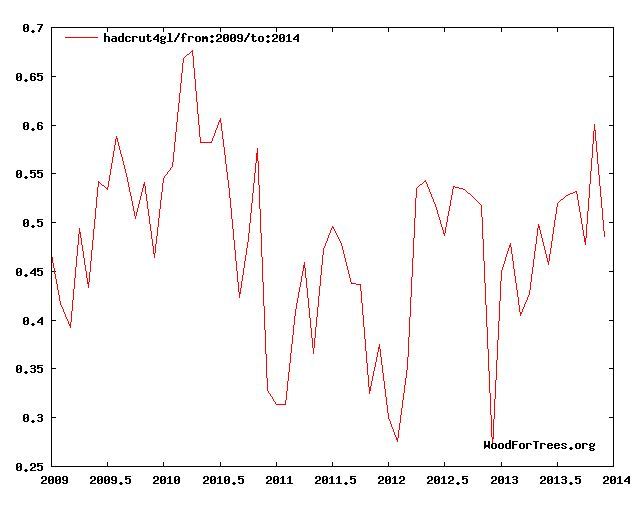 We see the same with GIS, RSS, and all other measures. This is "climate change" prognostication" in a nutshell: lots of dire predictions based on computer models and wishful thinking. This doesn't blow out the notion that the Earth is currently in a warm period: it just shows that the hyperventilating and insanity over anthropogenic global warming/climate change is absurd.
Via Climate Depot.

If you liked my post, feel free to subscribe to my rss feeds.