Are you ready for serious cherry picking?
How did the Spring of 2013 Rank?

NASA's Goddard Institute for Space Studies (GISS) has released their temperature anomaly data for the Spring of 2013 in the Northern Hemisphere, which includes the full months of March, April and May.

The March through May period averaged +0.56 degrees C. or 1.00 F. above the 1951-1980 average globally, thus placing the period as tied for 7th warmest on record with 2011, 2003 and 2001.
If you're using the 1951-1980 average, well, yes, everything will be above that, because that period saw cooling temperatures, till about 1978 (remember, magazines and scientists were worried about a coming ice age during that period, especially by the mid-1970's)
However, if we look at the longer term trend, we are slapped in the face with the reality that the US had it's coldest spring since 1924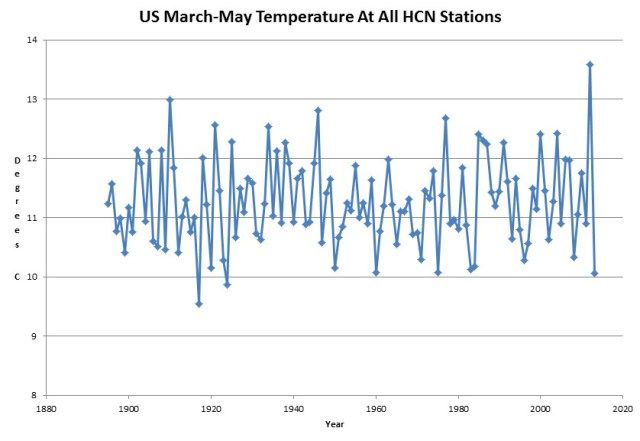 The UK had their coldest spring in 30 years. Nations across Europe, Asia, and the Middle East saw their coldest spring in 30 or more years. Many of them never really had a Spring. Russia has seen a cold spring.
Warmists just can't help themselves.

If you liked my post, feel free to subscribe to my rss feeds.