These sure are some happy looking horizontally challenged kids (hat tip to Ashley Helms)
(MSN News) Sponsors of a campaign that's drawing ire say it's meant to educate parents and create change since pictures of healthy, smiling kids don't really work in targeting obesity.

This is one before and after Photoshop job that's not going down too well.

First 5 California has been doing anti-obesity campaigns for years, hoping to inculcate healthy food habits among parents. This year, the government-funded early childhood program went a step further and Photoshopped images of kids to make them appear bigger than they normally were.
Here's one of them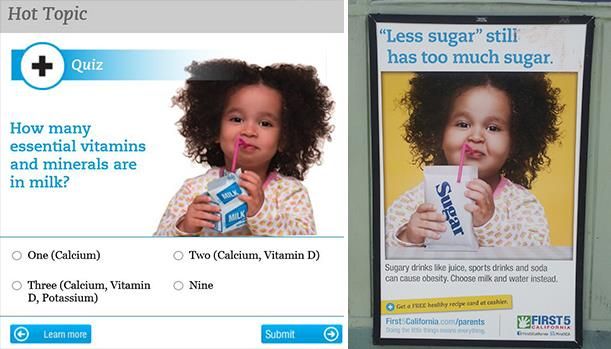 Some are calling the above one racist, because it makes the child darker. I'm not seeing it, looks more like they lightened her as they made her look fatter. Another replaced a glass of milk with a bag of sugar with an Asian child (like the above, in case you missed it).
As Ashley wrote in her email to me "Apparently obesity is such an epidemic that they can't actually find any obese people to photograph for the ads."
Let's not forget that the climate change wankers have also subsumed the obesity problem under their banner, and blame fat people for "climate change", killing polar bears, "polluting" the air, and want to force fat people to eat less by government law. Oh, and kill them, too.

If you liked my post, feel free to subscribe to my rss feeds.