Among other climate astrology (via Climate Depot)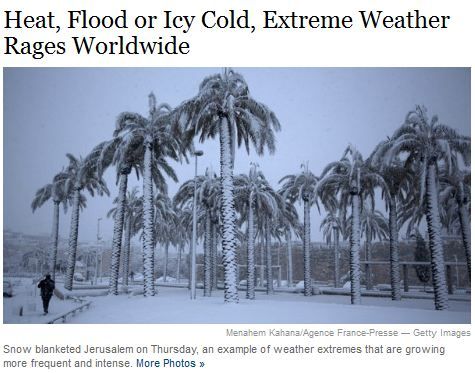 I instinctively know you just face palmed yourself. Want more?
Britons may remember 2012 as the year the weather spun off its rails in a chaotic concoction of drought, deluge and flooding, but the unpredictability of it all turns out to have been all too predictable: Around the world, extreme has become the new commonplace.

Especially lately. China is enduring its coldest winter in nearly 30 years. Brazil is in the grip of a dreadful heat spell. Eastern Russia is so freezing — minus 50 degrees Fahrenheit, and counting — that the traffic lights recently stopped working in the city of Yakutsk. (schoolkids won't know what working traffic lights look like)

"Each year we have extreme weather, but it's unusual to have so many extreme events around the world at once," said Omar Baddour, chief of the data management applications division at the World Meteorological Organization, in Geneva. "The heat wave in Australia; the flooding in the U.K., and most recently the flooding and extensive snowstorm in the Middle East — it's already a big year in terms of extreme weather calamity."
The article provides even more examples of cold and snow later on. But, what's causing this?
Such events are increasing in intensity as well as frequency, Mr. Baddour said, a sign that climate change is not just about rising temperatures, but also about intense, unpleasant, anomalous weather of all kinds.
And this is how we know it is a cult akin to Jonestown and has little to nothing to do with science.
And Warmists still won't change their own lives to match their rhetoric.

If you liked my post, feel free to subscribe to my rss feeds.