They really can't help themselves. Here we have Jonathan Allen: Opinion: Climate change, Earth's warming air make hurricanes more violent
Following Hurricane Sandy, The Times published several articles and op-eds suggesting that the storm and other extreme weather events are likely due to climate change. The most recent was by fellow physicist Rep. Rush Holt ("A new normal: Plan wisely against tempests to come," Dec. 20). In it, he warned of more such onslaughts in the future.

While it would be difficult to prove that any specific weather event was irrefutably due to climate change, the extraordinary rise in extreme weather events is very difficult to explain without invoking the increased atmospheric heating, as a near-doubling of carbon dioxide enhances the Earth's greenhouse effect.
So, he can't prove it, but, he'll still blame mankind. Strangely, Jonathan fails to tell us how he's given up his fossil fueled lifestyle and gone "carbon neutral". Furthermore, as I write again and again, if one is using the phrase "climate change", they aren't interested in science but in politics.
But, there is no "rise in extreme weather events." There's simply the weather. Some years will be worse then others for certain factors. And, with the rise of satellites, the spread of cameras, radar, the Internet, people, weather events will be more noticeable than 100 years ago. Just 50 years ago there were much fewer hurricanes named because they weren't getting near land, and the only way to know would have been if a ship passed near or through one. Some years will have bad tornado outbreaks, some won't. There is always something going on with the weather.
Fortunately the article provides a handy dandy visual of what world killing CO2 looks like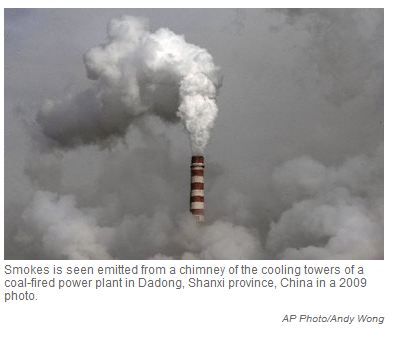 So, now water vapor is considered CO2 "smoke".

If you liked my post, feel free to subscribe to my rss feeds.