I wonder how many unnecessary fossil fueled flights and automobile trips were taken to put on this demonstration? There are quite a few faces of people who surely live nowhere near not only Qatar, but the Middle East.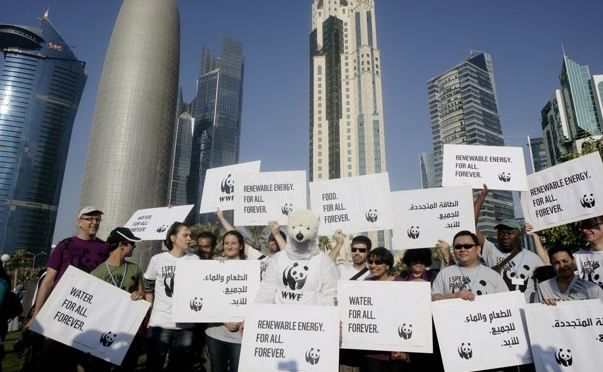 And how many trees were killed to produce the professionally made signs?
(Washington Post) A few hundred people marched in a peaceful demonstration Saturday for "climate justice" in Doha, where negotiators from nearly 200 countries are debating about how to slow global warming and help protect the most vulnerable countries from rising seas and other impacts of climate change.

Waving banners saying "Stop climate change" and "Arabs reduce emissions," the well-behaved crowd marched along the Qatari capital's Corniche, a waterfront walkway lined by gleaming skyscrapers.

Khalid al-Mohannadi, one of the organizers, noted that "it's not a protest, it's a march for peace."
Well, by taking all those fossil fueled trips, the Warmists are destroying peace, per their own words.

If you liked my post, feel free to subscribe to my rss feeds.