For only $10, you can get yours!
(The Hill) After a week where the one-year anniversary of the killing of Osama bin Laden effectively dominated the political news arena, Republicans are looking to shift the message back to a critical examination of President Obama's economic record.

The Republican National Committee and Romney campaign are launching a new messaging effort centered around the theme of "hype and blame," a play on the Obama campaign's 2008 "hope and change" slogans.

Republicans will sell bumper stickers emblazoned with the faux slogan, and accompany that with a digital, radio, and television advertising push. The effort will focus on Virginia and Ohio, the two crucial swing states the president will hold campaign events in on Saturday.
Heh!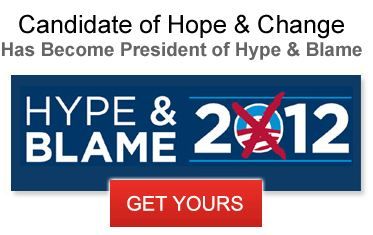 If you liked my post, feel free to subscribe to my rss feeds.