Devils head coach Pete DeBoer said "This was exhausting and I didn't even play." It was exhausting for Devils fans, too, who've been waiting for a playoff series win for quite some time, and after missing the playoffs last year. But
Let the brawling and cheap shots begin.

The Flyers are next for the resilient Devils and there is barely enough time for goalie Martin Brodeur and his weary teammates to rest.

After overcoming the Florida Panthers, 3-2, when rookie center Adam Henrique scored at 3:47 of the second overtime in Game 7 of their Eastern Conference quarterfinal series Thursday night at the BankAtlantic Center, the Devils advanced to the semifinals and will play Game 1 in Philadelphia on Sunday at 3 p.m.

"This feels pretty good. For a day. Then we have to face the Flyers," Brodeur said.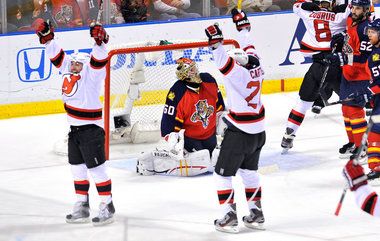 This should be a heck of a series, as well.
"I think I blacked out when I heard the thud at the back of the net," Henrique said. "An NHL Game 7 winner. That's the game you always play with mini-sticks at home in the hallway or living room."
Good for him, netting his 2nd goal of the game as the series winner. And good for Stephen Gionta and the other 4th liners, who really stepped it up in the Playoffs, scoring several goals and being an energy line, which is what teams want during the "second season."
The Rangers get the Capitals. St. Louis vs. Los Angeles. Phoenix vs. Nashville. Full schedule here.

If you liked my post, feel free to subscribe to my rss feeds.