The man is beyond belief. Via IBD, comes Obama's proclamation. We'll skip the self serving garbage, and get to
NOW, THEREFORE, I, BARACK OBAMA, President of the United States of America, by virtue of the authority vested in me by the Constitution and the laws of the United States, do hereby proclaim April 22, 2011, as Earth Day.  I encourage all Americans to participate in service programs and activities that will protect our environment and contribute to a prosperous, healthy, and sustainable future.
Seriously? Did he actually take credit for Earth Day? For making it "official"? He even notes it has been around for 42 years (43 this year). From Wikipedia
The genesis of Earth Day is credited to Gaylord Nelson, then a U.S. Senator from Wisconsin, after witnessing the ravages of the 1969 massive oil spill in Santa Barbara, California. Inspired by the student anti-war movement, he called for an environmental teach-in, or Earth Day, to be held on April 22, 1970. Over 20 million people participated that year, and this Earth Day is now observed on April 22 each year by more than 500 million people and several national governments in 175 countries.[citation needed] Numerous communities celebrate Earth Week, an entire week of activities focused on environmental issues.
In Obama World, it can't be official till He Chimes In.
Oh, and the typical unhinged enviroweenies are calling for "population stabilization."
BTW, here's Obama Green Fail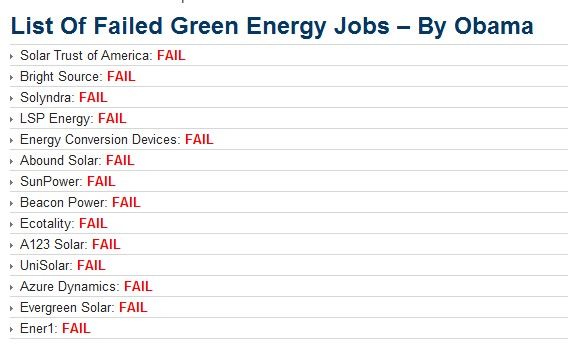 Via Real Science from Divided States.

If you liked my post, feel free to subscribe to my rss feeds.