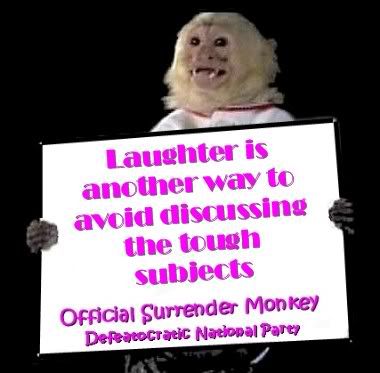 Friday! Friday! Friday! The day after Thursday. The day after the "it's so nice to have a smart, intelligent president" went gaffetastic on Leno
Towards the end of his approximately 40-minute appearance, the president talked about how he's gotten better at bowling and has been practicing in the White House bowling alley.

He bowled a 129, the president said.

"That's very good, Mr. President," Leno said sarcastically.

It's "like the Special Olympics or something," the president said.
Remember when people had a snit over the word "retard" being useda bit in the movie Tropic Thunder? I wonder if those same groups will go off on President Neoprompter, who did apparently apologize, well, had a spokesman apologize, sort of, kind of, in that "oops, we did it again!" type of way. But, the Obamateur administration couldn't be that dumb, could they? Well, yes, of course they could. Supposedly, this appearance was supposed to be, according to "Babbling" Gibbs, talking "about the economy and the choices and challenges we face." Yet, even the NY Timescouldn't find much to say regarding any talk about the economy and the issues that matter to Americans. Nor could the transcript.
Michelle Malkin: The teleprompter made him do it!
Alan Colmes' first thought is how "we'll be hearing more about this from the right-wing echo chamber." His second thought is how there wasn't quite an apology. Way to become an Obamazombie, Alan! I thought you folks on the left were compassionate. Guess political affiliation trumps everything, eh, Alan?
And, since this will be crossposted at Stop The ACLU and Pirate's Cove, I would be remiss in mentioning Warner Todd Huston's post Don't Fall for Making a Big Deal of Obama's 'Special Olympics' Comment
Finally, the Surrender Monkey has filed a formal protest with the HR department, saying he doesn't get paid to do this many stories about Obama, and he is starting to feel dirty.

If you liked my post, feel free to subscribe to my rss feeds.