Not so, well, I gather
Palestinian suicide bombers from Gaza drove three explosives-laden vehicles into the Kerem Shalom goods crossing on the border with Israel early on Saturday, detonating two of them, the Israeli military said.

Three bombers were killed in the blasts and 13 Israeli soldiers were wounded, three moderately and the rest lightly, the military said.
Except for the fact that there are three less Islamicist nutjobs to polute the gene pool, who gives a rats ass about the "bombers?" Was it really necessary to lead off that paragraph about their deaths? Sorry, sorry, NY Times, my bad.
Hamas, the Islamic group that controls the Gaza Strip, claimed responsibility for the attack. It came on the eve of the weeklong Passover holiday in Israel and hours before former President Jimmy Carter held a second meeting in Damascus with exiled leaders of Hamas, reportedly to explore the possibility of a cease-fire and a prisoner exchange between the group and Israel.
Um, OK. I'm sure Jimmy, one of the few people with Southern accents that the elitist (snooty and snobby work, too) Liberal snots actual do not denigrate, will either ignore this act of terrorism, or blame Bush.
Saturday's attack on the Kerem Shalom terminal, from where essential goods are transferred into Gaza, appeared to be part of a concerted campaign by Gaza militants against the border crossings. Hamas officials have issued threats in recent weeks about an impending explosion along Gaza's borders with Israel and Egypt. This attack was the fifth to have occurred along the border with Israel in the last 10 days, according to Maj. Avital Leibovich, an Israeli Army spokeswoman.
How do you make peace with people who do not want to make peace? I'm sure liberals will get around to explaining how one of these years, but, I have seen their secret plan: it's called "Surrender." They plan to start teaching it in grades k-12 as soon as a Democrat is elected to the White House.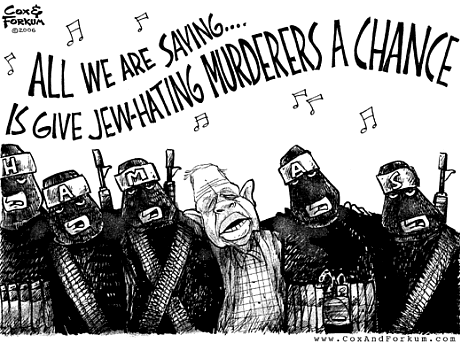 If you liked my post, feel free to subscribe to my rss feeds.