Happy Friday to all! It's that time of the week again! Do you have an interesting post you want to share with everyone? The official Surrender Monkey of the Democratic Party says to do what the Lefties don't, since they all have the same talking points: link it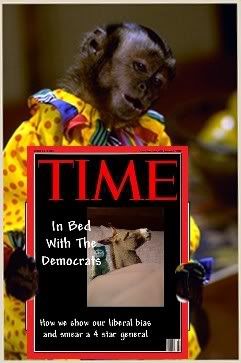 This is a first. So far, The (pronounced 'thee') Surrender Monkey has featured all people. Dems, some Republicans, even groups of them, but never a magazine. Time for a change (bad pun, I know)
Goodness gracious. oh, my paws and whiskers. Some of the meanest, most ornery hombres around are suddenly feeling faint. Notorious tough guys are swooning with the vapors. The biggest beasts in the barnyard are all aflutter over something they read in the New York Times. It's that ad from MoveOn.org — the one that calls General David Petraeus, the head of U.S. forces in Iraq, general betray us. All across the radio spectrum, right-wing shock jocks are themselves shocked. How could anybody say such a thing? It's horrifying. It's outrageous. It's disgraceful. It's just beyond the pale … It's … oh, my heavens … say, is it a bit stuffy in here? … I think I'm going to … Could I have a glass of … oh, dear [thud].

Welcome to the wonderful world of umbrage, the new language of American politics. You would not have thought that the likes of Rush Limbaugh and Bill O'Reilly would be so sensitive. Sticks and stones and so on. Yet they all seem to have taken one look at that ad and fainted dead away. And when they came round, they demanded — as if with one voice (or at least as if with one list of talking points) — that every Democratic presidential candidate must "condemn" this shocking, shocking document.

The ad is pretty tough, and the pun on the general's name is pretty witless. You could argue that since the verb betray and the noun traitor have the same root, the ad is accusing the head of American forces in Iraq of treason. The ad can also be interpreted — more plausibly if you consider the rest of the text — merely as questioning the general's honesty, not his patriotism. But whatever your interpretation of the ad, all the gasping for air and waving of scented handkerchiefs among the war's most enthusiastic supporters is pretty comical.
Hmm, I do not remember that woosy type behavior, do you? I remember quite a bit of outrage and anger, but, apparently, liberals see it different, where, and response that comes even close to approaching the vitriol coming from the Left must be like women swooning.
It's all phony, of course. The war's backers are obviously delighted to have this ad from which they can make an issue.
Wrong. It's neither phony nor wanted. While we are more then happy to destroy MorOn.org, we would prefer that they never ran the ad, slurring a 4 star US General Officer serving on the field of battle. But, considering that the Left has outrage of the hour constantly, and the Right is rather rational and stolid, I can see where they might confuse real outrage that shows up now and then with fake. Michael Kinsley, the writer, even tries the old stand by of calling conservatives "chicken-hawks."
The constant calls for political candidates to prove their bona fides by condemning or denouncing something somebody else said or to renounce a person's support or to return her tainted money are a tiresome new tic in American politics.
Oh, my, I believe I am getting the vapors. I cannot seem to find any article by Kinsley, or, hell, Time Magazine, that denounces Democrats for their pontifications that any Republican that took money even remotely from Jack Abramoff should return it. Interesting. I might swoon. But, the above excerpt is not surprising, considering that the hsu is on the other foot, and it is Democrats, including the media front runner, Shillary, who has taken massive amounts of money from Hsu. If Kingsley had any sort of journalistic integrity, he would be wondering if anything illegal happened there.
Finally, I would assume (yes, I know what happens) that Kingsley approves of the MorOn.org add. He says absolutely nothing negative about it. Gotta earn those liberal bonafides, eh?
Adding on: Warner Todd Huston at Stop The ACLU provides his take on this kerfuffle.
Dr. Steven Taylor refers to the story by Kingsley as "More evidence of my outrage deficiency"
Mustang Bobby at Shakesville sounds more like Shakespeares Sister with his whining about "they can dish it out but not take it. Sob" Yeah, because we all know the left is so civil.
More at Memeorandum.

Send a trackback to this post, but don't forget to link it. Otherwise, a Donkey may poop in your bed!

If you liked my post, feel free to subscribe to my rss feeds.