And a Happy Monday to all. Harry Reid has said all is lost, so it is time to take it down a notch, get in the wrong frame of mind for the work week, be prepared to do your least and worst, or at least your bare minimum.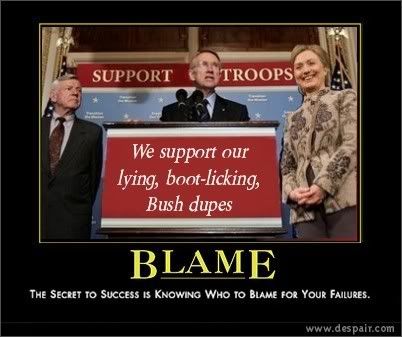 I'm glad the Democrats voted unanimously to approve General Patraeus. And remember when they were complaining that President Bush should listen to the commanders in the field? Ah, how times change in order to push retreat and defeat (Washington Times)
The Senate Armed Services Committee chairman and other leading Democratic lawmakers added their voices to those questioning the judgment of Gen. David H. Petraeus, the top military commander in Iraq, on the eve of his progress report to Congress.

Sen. Joseph R. Biden Jr. of Delaware, who is seeking the Democratic presidential nomination, recently returned from Iraq. He downplayed reports of military progress there, saying he and other lawmakers will continue to push for a withdrawal of American forces.

"I really respect him, but I think he's dead flat wrong," Mr. Biden said when asked about Gen. Petraeus' expected recommendations. "I will insist on a firm beginning to withdraw the troops, and I will insist on a target date to get American combat forces out."

Mr. Biden's comments were echoed by Sen. Dianne Feinstein of California, another Democrat considered influential on national security issues. Mrs. Feinstein told "Fox News Sunday" that while she respects Gen. Petraeus, she thinks his personal stake in the war will color his judgment.

"I don't think General Petraeus has an independent view in that sense," she said. "General Petraeus is there to succeed. He may say the progress is uneven. He may say it's substantial. I don't know what he will say. You can be sure we'll listen to it. But I don't think he's an independent evaluator."
Well, to be fair, this is nothing that should not have been expected. We knew well over half a year ago that the Democrats would never listen to him, and would poo poo anything he said. After voting for him and his Surge plan, they immediately started complaining and calling the Surge a failure, before it had even gotten all the troops on the ground. They have been complaining for weeks that Patraeus' report will be written by the White House. Face it: he never had a snowballs chance in hell of getting a fair and impartial hearing from the Democrats in Congress.
It's no wonder, though, as the Dems attempt to pander to their Nutroots base, including, as the article mentions, (Never)MoveOn.org, who refers to the general as "General Betray Us." See Riehl World View for more.
It is not to say that everything is peachy keen. There are troubles and issues. But, perhaps, the Democrats should be willing to listen honestly and with open minds, and, for a change, support the mission and offer real alternatives and ideas to be able to leave Iraq with a working government.
Late day update: Instapundit has some good links, including the full transcript of the hearing.

Send a trackback to this post, but don't forget to link it. Otherwise, no soup for you!

If you liked my post, feel free to subscribe to my rss feeds.