Happy Friday to all! It's that time of the week again! Do you have an interesting post you want to share with everyone? The official Surrender Monkey of the Democratic Party says to do what the Lefties don't, since they all have the same talking points: link it!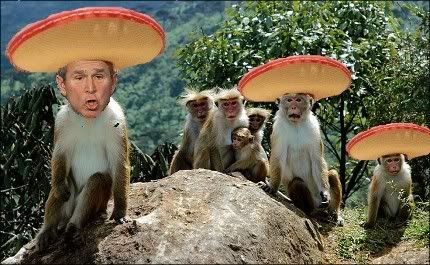 Yes, Bush has once again defended his piece of sh*t legislation
NASHVILLE, Tenn. — President Bush sharply challenged critics of his stalled immigration-overhaul efforts today, suggesting that failure to pass a guest-worker program could trigger a labor shortage in the United States.
Would that be the labor that rapes our children and kills our citizens, W? How about this: ditch the amnesty talk. Yes, we can look at status change for a small number of people in compromise. We can allow guest workers, lots of them if necessary, but that MUST be tied to monitoring and enforcement so as to avoid felons coming, as well as the workers overstaying their visas. Make it really, really expensive for companies to hire illegals. Make it very easy for those working at our ports of entry to deny entry to the people who do not meet appropriate criteria. Make it easy for Border Agents to do their jobs. Make it easy to find and deport those who are here illegally, most especially those who overstayed their visas. Make sure those who come legally are here for an actual reason, and they stick with that reason, for instance, those who claim they are going to school.
Is that so hard?
Hell, Mexico's ambassador to the U.S.A. states that his government shouldn't criticize the U.S. for any tough enforcement, considering Mexicon's harsh treatment of illegals, and that it is a felony to cross their borders illegally.
He also makes it clear that he couldn't give a rats ass about Border Patrol agents Ramos and Compean. I guess they do not have the ifluence of a Scooter Libbey.
And people wonder why Bush's approval rating is so low. This is all very disappointing.

Send a trackback to this post, but don't forget to link it. Otherwise, you might be arrested for pointing out an illegal to the cops.

If you liked my post, feel free to subscribe to my rss feeds.