In Afghanistan
BAGRAM AIR BASE, Afghanistan (Reuters) – Thousands of American troops celebrated their 4th of July independence holiday in Afghanistan on Wednesday, far from home but treated to a feast of hotdogs, burgers, corn on the cob and ice cream.

"This is a special day for us and we will be celebrating across the country, wherever we are," army captain Meredith Noll said at Bagram Air Base, the vast and sprawling headquarters of the U.S-led, 50,000-strong international force in Afghanistan.
In Iraq
BAGHDAD – Hundreds of U.S. troops marked the Fourth of July by re-enlisting in the military Wednesday while others took oaths of American citizenship in ceremonies at the main U.S. headquarters in Iraq.

A total of 588 troops signed up for another stint, according to a U.S. military statement, while 161 soldiers became naturalized American citizens. The ceremonies took place at Camp Victory, the sprawling American headquarters at the western end of the Iraqi capital.

"No bonus, no matter the size, can adequately compensate you for the contribution each of you has made and continues to make as a custodian of our nation's defenses," the top U.S. commander, Gen. David Petraeus, told the audience.
Happy Independence Day, guardians of our freedom!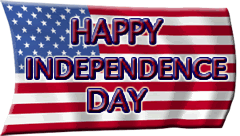 If you liked my post, feel free to subscribe to my rss feeds.