Happy Friday to all! It's that time of the week again! Do you have an interesting post you want to share with everyone? The official Surrender Monkey of the Democratic Party Surrender Monkeys of the GOP say to do what the Lefties don't, since they all have the same talking points: link it!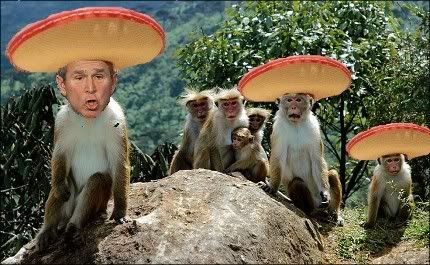 Surrendie has the day off in favor of los Monos Republicanos Del Chillón, who have donned their sombrero's. Why?
(Washington Times) The Republican National Committee, hit by a grass-roots donors' rebellion over President Bush's immigration policy, has fired all 65 of its telephone solicitors, Ralph Z. Hallow will report Friday in The Washington Times.

Faced with an estimated 40 percent fall-off in small-donor contributions and aging phone-bank equipment that the RNC said would cost too much to update, Anne Hathaway, the committee's chief of staff, summoned the solicitations staff last week and told them they were out of work, effective immediately, the fired staffers told The Times.

Fired employees acknowledged that the committee's phone equipment was outdated, but said a sharp drop-off in donations "probably" hastened the end of the RNC's in-house phone-bank operation.

There has been a sharp decline in contributions from RNC phone solicitations, another fired staffer said, reporting that many former donors flatly refuse to give more money to the national party if Mr. Bush and the Senate Republicans insist on supporting what these angry contributors call "amnesty" for illegal aliens.

"Everyone donor in 50 states we reached has been angry, especially in the last month and a half, and for 99 percent of them immigration is the No. 1 issue," said the former employee.
Are you listening, El Presidente? How about Michael Chertoff, Lindsey Graham, John McCain, Saxby Chamblis, and Linda Chavez? You all are surrendering our country to illegal immigrants, primarily from Mexico and Latin American countries. Way to go! Are you proud of the divisions you have caused in the GOP? How will you operate when donations are down like this?

Send a trackback to this post, but don't forget to link it. Si no, Bush puede morder su cara apagado y llamarle un fearmonger.

If you liked my post, feel free to subscribe to my rss feeds.