You remember when the Mohammed cartoons came out, and we saw what bastions of civility, peace, and free speech the Muzzies are. Well, check this out
Paris, France (CNSNews.com) – A year after an Islamic furor over the publication of cartoons satirizing Mohammed, a two-day trial that opened in Paris Wednesday is a key test of freedom of expression, according to press freedom advocates here.

The Paris Mosque and the Union of Islamic Organizations of France are suing Charlie Hebdo, a satirical weekly newspaper, accusing it of insulting Muslims and inciting religious hatred by publishing three cartoons.

Two of the cartoons were reprints from a series of 12 published by the Danish newspaper Jyllands-Posten in September 2005.

"What's at stake is to reaffirm — in France for now, but also in Europe in general, because the cartoons originated in Denmark — that the public area is meant for debate, controversy, and even discord," said Elsa Vidal, head of the European bureau of the press freedom watchdog, Reporters Without Borders.
I just have to wonder if those who practice the "religion of peace" will scare the French courts so much that rule in favor of restrictions on free speech. Maybe you are thinking "hey, no way! Even the French will have the cajones to stand up and say "Nyet!""
Ah, but there is the rub. Approximately 25% of the French population, both legal, which includes citizens and interim workers, and illegals practice Islam. If India didn't have the cajones to stand up for free speech to their 13% Muslim population, when they blocked Internet access to myself and many other bloggers and sites, such as Yahoo pictures, there is quite a bit of the unknown regarding what the French courts will do.
And what will the American Left say if the courts restrict free speech? Will they still say we should be like those enlighted Europeans?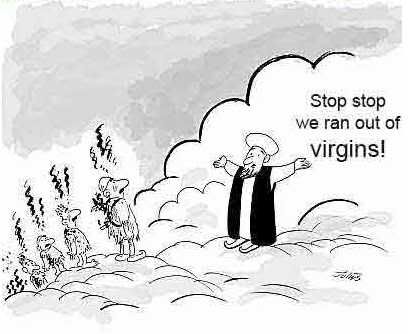 Looking for that fatwa, and to be banned in a Muzzie country.
Some others writing about this: Release The Hounds, Winds Of Change, Little Green Footballs, Gateway Pundit, Blogmeister USA

If you liked my post, feel free to subscribe to my rss feeds.