Happy Friday to all! It's that time of the week again! Do you have an interesting post you want to share with everyone? The official Surrender Monkey of the Democratic Party says to do what the Lefties don't, since they all have the same talking points: link it!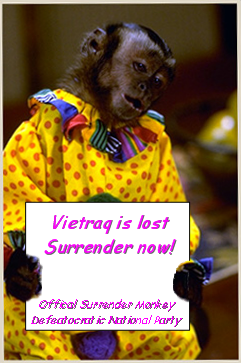 Surrendi, the official Surrender Monkey, is very sad, and felt like dressing up, due to todays honoree, and his past (?) abject racism
This story from back on Tuesday fits Trackback Friday Featuring the Surrender Monkey perfectly
(CNSNews.com) – "In Iraq, there is no victory to be had in an enterprise that has been ill-fated from the start," the nation's oldest senator said on Tuesday.

In a message written on behalf of the Democratic Senatorial Campaign Committee, Sen. Robert Byrd of West Virginia urged Americans to tell President Bush that the "escalation must be stopped now!"
So says the only member of Congress who used to be a member of the KKK, who infamously stated "with a Negro by my side. Rather I should die a thousand times, and see Old Glory trampled in the dirt never to rise again, than to see this beloved land of ours become degraded by race mongrels, a throwback to the blackest specimen from the wilds."
Even after all these year, it still surprises me how invested the Democratic Party is in the defeat of the country that they swore to protect
I do solemnly swear (or affirm) that I will support and defend the Constitution of the United States against all enemies, foreign and domestic; that I will bear true faith and allegiance to the same; that I take this obligation freely, without any mental reservation or purpose of evasion; and that I will well and faithfully discharge the duties of the office on which I am about to enter: So help me God.
Duties such as supporting ones military while it is battle, fighting an enemy. Duties such as supporting ones country. But, they are liberals, who constantly consider the USA to be the worst country on Earth.

Send a trackback to this post, but don't forget to link it. Otherwise, Nancy Pelosi might put you to work in a tuna cannery.

If you liked my post, feel free to subscribe to my rss feeds.