It's that time of the week again! Do you have an interesting post you want to share with everyone? The official Surrender Monkey of the Democratic Party says to do what the Lefties don't, since they all have the same talking points: link it!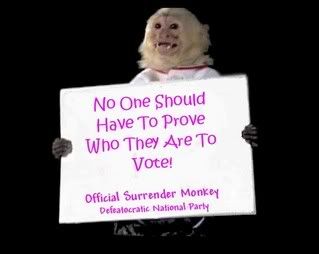 It seems that the Defeatocrats are having a little official hissy fit over requiring ID's as proof of who someone is in order to vote.
Yesterday the Republican controlled Congress passed H.R. 4844, a bill that would disenfranchise thousands of voters by requiring them to obtain and produce government issued photo ID proving their citizenship before they could vote.
Do Democrats not have driver's licenses or State ID's? Heck, illegal aliens can get them easily in North Carolina, can't legal Dems? God forbid someone should have to prove that they are a legal citizen of of the United States of America, as well as of legal age and who they say they are, in order to vote.
But, we know that their actual reservations and opposition to this is related to their innability to commit election fraud if people have to prove who they are.
BTW, isn't it against some sort of law or FEC regulations for Howard Dean to continue to call himself Governor?

Do you have an interesting post? Or just a post?

Want it spread around? Well, go ahead and link it up! Otherwise, Cynthia McKinney may pop you one get of scott free, or worse!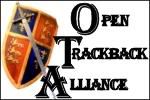 Send a trackback to this post, but don't forget to link it.

If you liked my post, feel free to subscribe to my rss feeds.