When your down by 17, and need a big win,

who you gonna call? Eli Manning (to the tune of Ghostbusters)
Down by 17 with 13:41 to go. 13:40 down by 10. And so on. Till it comes down to a 6 point Gmen victory in OT, baby!
You, know, allowing the Giants to come back like that had to hurt the E'Girls something fierce. Mwahahahahahahaha!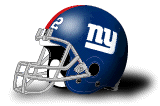 If you liked my post, feel free to subscribe to my rss feeds.