Jim at bRight & Early has an interesting post:
When I was growing up one of my favorite series of books were "You were there…" (One that sticks in my mind was, "You were there at Perl Harbor) Independence Day is without a doubt our most historical holiday. So, here's my idea:

It's July 1776, but there's one difference — blogs, including yours. What would your post be for July 4th, 1776 not from today's perspective, but if "you were there"?
Hmmmmmmmmm
Matey, great news. Some of thy brightest and most influential people in these 13 Colonies have declared independence from the despotic British rulers. Of course, the Loyalists have taken a dim view of this corporate funded attempt, particularly the tea industry, to break away from the "benevolent occupiers."
Charles Shumer, a representative of Her Majesty's Royal Governors, stated "I find it appalling that several unelected business leaders woud take it upon themselves to userp the valid and legal ruling powers bestowed by King Charles. This is clearly a violation of the Separation of Powers."

John Kerney, a high powered gigilo and husband of a wealthy Boston socialite, stated that he was for independence before he was against it.

Other Loyalists joined the fray, and demanded that the Pennsylvania governor, appointed by King Charles, recount the ballots. There were also claims of ballot tampering, and that the system used was not transparent enough, plus there some had to stand in line to long to sign their name to the so called "Declaration of Independence."
Once again, the Loyalists have left the reservation. What's good for the Colonies is bad for the Loyalists. Just once, why can't they stand up for those who live here, rather then for the enemy across the pond in the Isles?
Meanwhile, a little birdy informed me that there will be tar-and-feathering parties occuring next Saturday, as the Loyalists are found. The stocks are also being sanded down, and vegtables are being picked. Heh!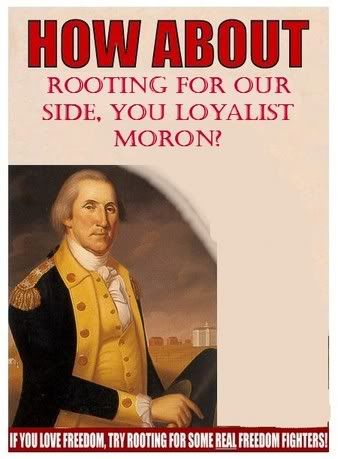 If you liked my post, feel free to subscribe to my rss feeds.