It's that time of the week again! Do you have an interesting post you want to share with everyone? The official Surrender Monkey of the Democratic Party says to do what the Lefties don't, since they all have the same talking points: link it!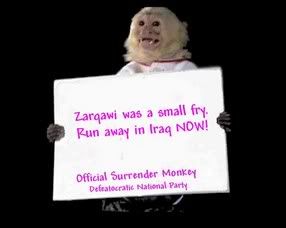 Many on the Left are taking great pains to tell us that the death of "Sneakers" al-Zarqawi won't end the Iraq operations, and that he really didn't matter much, and that we should cut and run:
ABC News:Â  Despite his international infamy, Zarqawi controlled only one of 14 major insurgent groups. (minimizing a guy who personnally beheads people)

(Richard) Clarke conceded that al-Zarqawi's death will not hasten the end of the war in Iraq. (from same ABC article)

"This is just to cover Bush's [rear] so he doesn't have to answer" for Iraqi civilians being killed by the U.S. military and his own sagging poll numbers, said Rep. Pete Stark, California Democrat. "Iraq is still a mess — get out. (from the Washington Times)

Rep. Dennis J. Kucinich, Ohio Democrat, said Zarqawi was a small part of "a growing anti-American insurgency" and that it's time to get out. (from same Wash Times)

(From Crosswalk) (John Kerry) said American troops "have done their job in Iraq, and they've done it valiantly. It's time to work with the new Iraqi government to bring our combat troops home by the end of this year.

But Murtha renewed his call for troop withdrawal, saying that because of the development, "we should be able to substantially reduce our presence in Iraq and redeploy our military outside of Iraq. (from Crosswalk, as well)
I'll give props to Kerry and Murtha, who at least said that killing Zarqawi was a good thing in the same article. But, as for the rest, they are basically the thoughts that alot of Dems do not want to articulate at this time.
Zarqawi's death won't immediately end the Iraqi operations, just like the death or capture of Osama (when it happens) will not end the USA's War on Terror. But getting Zarqawi was more then just a moral victory, and if you don't know why, I suggest the Knitting Forum.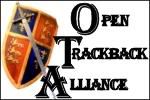 Send a trackback to this post, but don't forget to link it.

If you liked my post, feel free to subscribe to my rss feeds.