Hey, y'all, Jebediah here. And, boy, do I have a great politician for ya today! 
You know that photo "ours and theirs," the one that compares the women of the Right Vs. the ugly beatches on the Left? Well, add another hot babe to the Republican side. (found via Wonkette. Go figure :))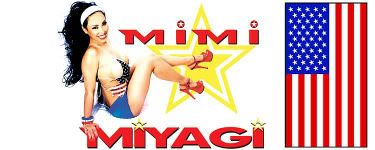 That's right, cool breezes, former porn star Melody "Mimi Miyagi" Damayo is running for Governor of Nevada. As a Republican!
She'd have my vote, if I lived in Nevada. Of course, I could play liberal and register to vote in both NC and Nevada. Na.
Check out the patriotic outfit and colors. Won't find that in Defeatocratic candidates ads.
Unfortunately, even she probably could not put a smile on Dingy Harry's face.

If you liked my post, feel free to subscribe to my rss feeds.