Happy Tuesday, all you crazy rightwing nutjobs ;) 
I don't have much today, busy fixing the AC and looking for a new TV before going in to work. So, how about this photo from a Pakistani source back in March 2000?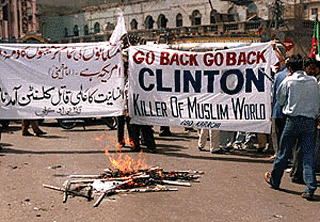 Guess they didn't think much of Slick, either.

Do you have an interesting post? Well, go ahead and leave a trackback, with a reciprical link back to me. Others offering open trackbacks are over in the right sidebar, near bottom. Have at it, y'all!

If you liked my post, feel free to subscribe to my rss feeds.