I suggest with start with turning off the heat to the school. Then do away with fossil fueled school buses, make the kids walk. And then vegetarian meals in the cafeteria (FYI, Polk refers to Polk County, Florida, where the schools are located)
Polk students on climate change: 'You can't just sit around'

One girl and one boy had braces on their teeth — unmistakable symbols of adolescence. Another girl wore a temporary tattoo of a heart on her forearm.

In short, they gave the appearance of being utterly typical seventh-graders.

The five youngsters, all students at Bok Academy in Lake Wales, spoke with unfailing politeness to their teachers and to two adult visitors on a recent day. But they displayed a certain bewilderment with the collective adult world, at least on one matter: climate change.

"It really frustrates me there's people that don't want to be doing things about it, and how hard it can be to convince them that this is a big deal and that we need to be doing something," said Ava Unzueta, 12.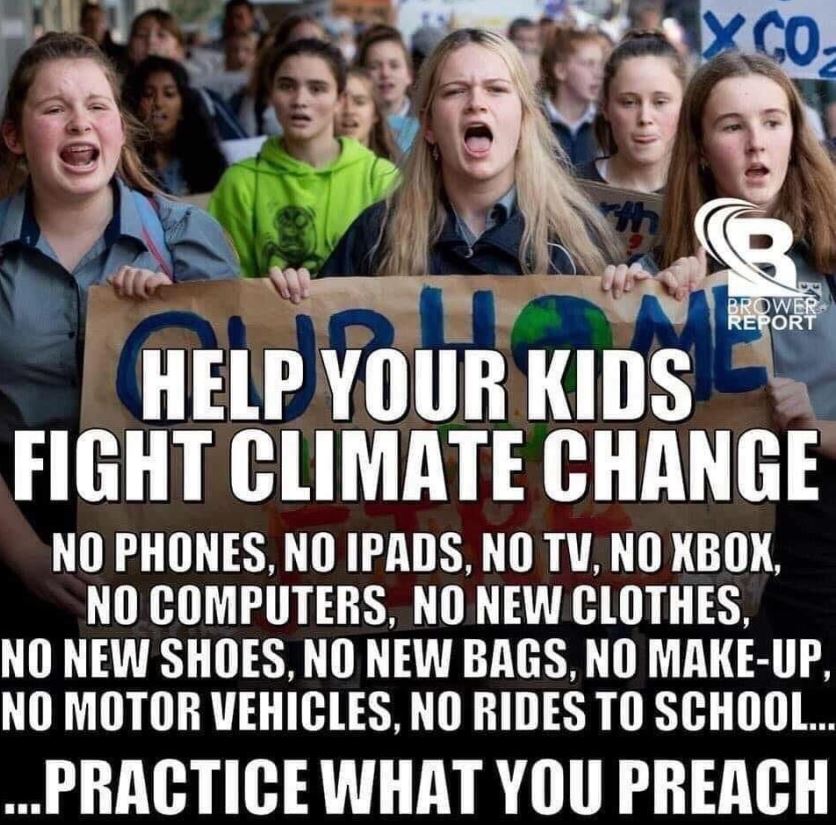 "Greta Thunberg, she's really young, but I think it's good that she's trying to educate people on climate change because young kids like us, we like to listen to other young kids," Ava said. "Like when our parents try to tell us stuff, you know how stubborn we can be and we don't always like to listen. But I think if it's coming from another young person, we're more inclined to understand. And it's our future, so climate change, it can affect adults but it's going to affect most of us because that's going to be our lives."
Awesome! Let's listen to the kid who has no degrees, is blowing off school, and has no real knowledge.
Autumn Taylor, 13, admired the way Thunberg has committed herself to warning others about the potential effects of climate change.

"You can't just sit around when you know something's happening," Autumn said. "If you're passionate about it, do it when you can. Don't just wait for someone else to do it. Age is just a number."
OK. No more smartphones, no more fossil fueled trips anywhere, grow your own food, no hair dryers, limited to 3 minute showers, oh, and half your allowance (and earnings if you have a job) will be confiscated. Y'all good with that, kids? Perhaps you should consider what it is exactly that the Cult of Climastrology actually wants to accomplish, and it's not stopping a tiny increase in CO2.

If you liked my post, feel free to subscribe to my rss feeds.