It's very easy to see something as a crisis when the schools and media portray it constantly as a crisis. In theory
Americans increasingly see climate change as a crisis, poll shows

A growing number of Americans describe climate change as a crisis, and two-thirds say President Trump is doing too little to tackle the problem.

The results, from a poll conducted by The Washington Post and the Kaiser Family Foundation (KFF), point to a growing disconnect between Americans worried about the warming planet and Trump administration officials, who have aggressively scaled back Obama-era environmental regulations and relinquished the nation's role as a global leader in pushing for climate action.

The poll finds that a strong majority of Americans — about 8 in 10 — say that human activity is fueling climate change, and roughly half believe action is urgently needed within the next decade if humanity is to avert its worst effects. Nearly 4 in 10 now say climate change is a "crisis," up from less than a quarter five years ago.
If you read the poll, you'll find lots and lots of stuff that seems good for the Cult of Climastrology. In theory
Though Americans are increasingly worried about climate change, fewer than 4 in 10 say they believe that tackling the problem will require them to make "major sacrifices." And most are unwilling to pay for it out of their own pockets.

For example, while nearly half of adults say they would be willing to pay a $2 monthly tax on their electricity bills to help combat climate change, just over a quarter say they are willing to pay $10 extra each month. And while two-thirds support stricter fuel-efficiency standards for the nation's cars and trucks, increases in the gas tax remain deeply unpopular.
I've mentioned that AP-NORC survey which finds that 68% of Americans wouldn't be willing to pay even $10 more a month in higher electric bills even if the money were used to combat climate change many times, right? The WP-Kaiser poll made a big mistake in asking similar, which is where the above comes from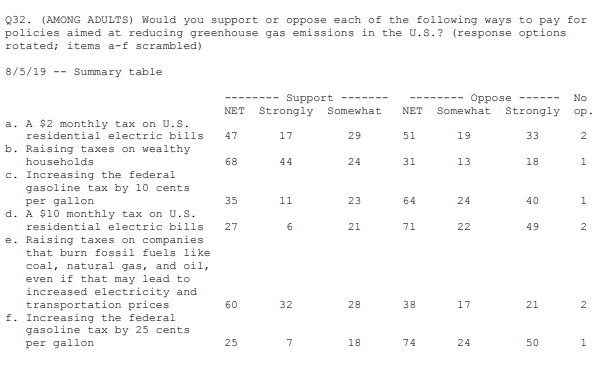 So, among the respondents, which has a Dem/Rep/Ind breakdown of 37/25/29 (oversamples Dems)
51% aren't willing to pay $2 on their electric bills. $2.
64% aren't willing to pay 10 cents more per gallon
71% aren't willing to pay $10 a month on their electric bill
So, theory about Solving Climate Doom doesn't quite hit the real world.

If you liked my post, feel free to subscribe to my rss feeds.