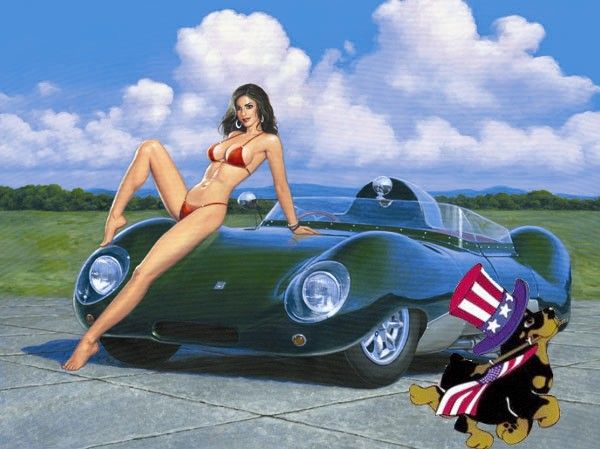 Happy Sunday! Yet another great day in America. The Sun is shining, the birds are signing, real Spring is just around the corner, or so they tell me. This pinup is by Greg Hildebrandt, with a wee bit of help.
What is happening in Ye Olde Blogosphere? The Fine 15
Independent Sentinel covers Jew hater Ilhan Omar facing protesters
Weasel Zippers discusses drugs caught at ports vs border
The Lid covers the emerging leftist theory of the Mueller report being a coverup
The First Street Journal covers the NY Times wanting a leader who bans constitutional rights
Raised On Hoecakes wonders when a criminal sentence ends
Powerline discusses the 5 things that didn't happen with the Mueller investigation
Political Clown Parade wonders why everyone at CNN and MSNBC are standing on a ledge
Pacific Pundit covers Diane Feinstein wanting to ban guns
Moonbattery notes that Seattle is dying
Jihad Watch notes Omar having secret fundraisers with Hamas linked CAIR
Free North Carolina covers AOC wanting to punish Asian students
Creeping Sharia notes the difference between righ-wing and Islamic terrorism cases
Chicks On The Right discusses Nikki Haley's reaction to the Mueller report
The Deplorable Climate Science Blog covers the California permanent drought
And last, but not least, Not A Lot Of People Know That features the Dutch government turning off gas supply to households
As always, the full set of pinups can be seen in the Patriotic Pinup category, or over at my Gallery page (nope, that's gone, the newest Apache killed access, and the program hasn't been upgraded since 2014). While we are on pinups, since it is that time of year, have you gotten your "Pinups for Vets" calendar yet? And don't forget to check out what I declare to be our War on Women Rule 5 and linky luv posts and things that interest me
Don't forget to check out all the other great material all the linked blogs have!
Anyone else have a link or hotty-fest going on? Let me know so I can add you to the list.

If you liked my post, feel free to subscribe to my rss feeds.