Excitable Ashley Reese at the uber-InsaneFeminist Jezebel is Offended by an ad
Woman Casually Sitting With Gun Would Like to Be Your Senator

Meet Leah Vukmir, a Republican Senate candidate from Wisconsin who wants to bring her conservative know-how to Washington. She would like you to vote for her, and she would like to ask you to vote for her while sitting at a table with a gun placed at her side. Extremely casual.

Vukmir explains in the ad that she received death threats over her policy positions: busting up unions and defunding Planned Parenthood, among others. She will also fight for these things in Washington, she says. Also, a gun.

Casual.
Here's the video
Standing on principle takes guts. I know what it takes.

📺 WATCH: Our first TV ad for the Senate race! #wisen #wiright pic.twitter.com/EiqxRd3ZPN

— Leah Vukmir (@LeahVukmir) June 18, 2018
I'd vote for her. She seems badass. But, you know, she's the wrong type of woman for the 3rd wave feminists, and she's literally (Joe Biden style) like Hitler
There are three important visuals in this ad: the gun, the kitchen table, and the simple gold cross around her neck. The kitchen table and the plain gold cross (nothing ostentatious!) are like the visual form of those German words that have whole paragraphs of meaning – they are dog whistles that encapsulate all of religious conservatism.
4 actually, you forgot the white skin on her face and hands.
A very Handmaid's Tale vibe going on here. (everything seems to be a Handmaid's Tale these days)
This is the creepiest thing I've seen this week, and I started watching The Handmaid's Tale last night.
A cross and a gun…… Of course.
Ye Jezebel staff are getting real lazy and careless. Ye obviously mislabelled a trailer for the Handmaid's Tale as an actual political ad.
And, remember, Democrats love the country, as this was down in the comments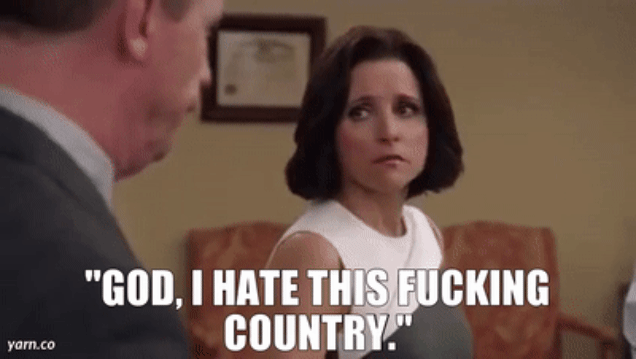 Sadly I feel like this every damn day. I want to make it better and feel so defeated, but I refuse to give up.
I hear you. I 100% understand why civil wars happen now.
And revolutions, and the impulse to "kill them all."
You stay classy, Dems.
You can follow her here on Twitter.

If you liked my post, feel free to subscribe to my rss feeds.