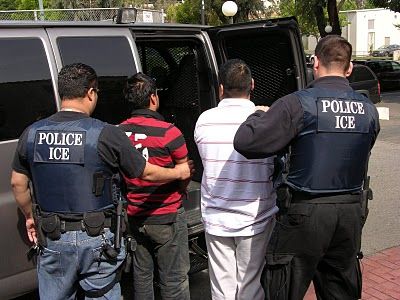 Of course, they have to term them "immigrants"
How Trump changed the rules to arrest more non-criminal immigrants

A businessman and father from Ohio. An Arizona mother. The Indiana husband of a Trump supporter. They were unassuming members of their community, parents of US citizens and undocumented. And they were deported by the Trump administration.
You could stop right there. That they're "undocumented" means they are unlawfully present, violated our laws and sovereignty, and should be deported.
It's left many wondering why the US government is arresting and deporting a number of individuals who have often lived in the country for decades, checked in regularly with immigration officials and posed no danger to their community. Many have family members who are American citizens, including school-aged children.
If I had been stealing CNN writer Tal Kopan's newspaper for 20 years, think she would be OK with that?
Where the Obama administration focused deportation efforts almost exclusively on criminals and national security threats, as well as immigrants who recently arrived illegally, the Trump administration has also targeted immigrants with what are called final orders of removal — an order from a judge that a person can be deported and has no more appeals left.
In other words, these are people who have orders that even preceded Obama's time in office who should have been kicked out a long time ago. Because, you know, when a judge issues a final order, it should be followed.
Of course, the story goes on into "gut wrenching", "heart breaking", and other types of feelings based journalism, failing to note that what the Trump administration is doing is, get this, following the law as written. Trump didn't change any rules: he's following them.
Don't like it? Try and get the laws changed. Go for it. Please tell the American citizenry that they are less important than the people who are illegally present in the nation, and that you want to create a situation where more will come illegally/overstay their visas.

If you liked my post, feel free to subscribe to my rss feeds.